International Committee for Crimea, Inc.
ICC. P.O. Box 15078, Washington, DC 20003
For breaking news, please go to ICC's Facebook page, updated regularly.
Of Interest
Award-winning documentary at Wilson Center, Washington DC
"A Struggle for Home: The Crimean Tatars" was screened successfully at the Kennan Institute of the Woodrow Wilson International Center for Scholars, Washington, DC on 26 May 2016. Program also included commentaries by Christine Paschyn, Film Director; Inci Bowman, ICC President; and Catherine Cosman, Senior Policy Analyst, US Commission on International Religious Freedom. The film was later shown at the U.S.- Ukraine Foundation in DC late in the afternoon.
The new documentary about Crimean Tatars won the Best International Film Award at the DC Independent Film Festival (DCIFF) in Washington, DC, in March 2016. In making the documentary, Director and Producer Christina Paschyn interviewed Crimean Tatar residents and activists, survivors of the Deportation, Russian nationalists, and scholars. The film tells the tragic history of Tatars and the new challenges they face under the Russian occupation of Crimea. It has already been screened at film festivals in Amsterdam, Doha (Qatar) and elsewhere, and were shown in various US cities (New York, Philadelphia, Chicago, Minneapolis) and European Parliament in Brussels. We offer our heart-felt congratulations to Christina Paschyn and hope that it will go on winning more awards and spreading the word about Crimean Tatars.
A Struggle for Home , Washington DC premier, 10 March 2016
For information on DCIFF screening:
http://dciff-indie.org/2016-documentaries/a-struggle-for-home/
The film trailer is available at:
https://vimeo.com/astruggleforhome/trailer
For further information on film:
http://astruggleforhome.com/
Crimean Tatar singer Jamala wins the 2016 Eurovision Song Contest
Susana Jamaladinova, who performs under the stage name Jamala, won the Eurovision contest, held in Stockholm on 14 May 2016. Her performance was watched worldwide by over 200,000 million people. She represented Ukraine, after winning the final competition in Kyiv in February. Her song "1944" that Jamala wrote in English, with stanzas from a well-known Crimean Tatar song "Ey Güzel Kırım" [Hey Beautiful Crimea] relates to the deportation of Crimean Tatars by the Soviet government. Jamala was influenced by her great-grandmother's experience and the loss of her child during the ordeal of being uprooted. She noted that "This song really is about my family." Yet, the song "1944" sparked immediate protests in Moscow. The Russian authorities did not receive the news kindly and asked that it be eliminated from the contest because of its political implications. Eurovision organizers permitted her to enter the final contest, and as a result of her victory in Stockholm the tragic story of Crimean Tatars was heard by a wider international community than we could ever imagine. We offer our heartfelt congratulations to Jamala, who is now an international celebrity. (Photo: Eurovision Song Contest; Photo credit: AP)
Jamala wins 2016 Eurovision contest in Stockholm
A Timeline: Crimean Tatars under Russian Occupation
It has been more than two years since Russian forces seized control of government facilities in Crimea and quickly moved to organize a questionable referendum that resulted in Russia's annexation of the peninsula in March 2014. Crimean Tatars have been under tremendous pressure ever since. Here we offer a brief chronology of events that lists human rights violations, including harassment and deportation of activists, exiling of Crimean Tatar leaders, intimidating members of the media, and illegal searches, confiscation of property, missing individuals and murder. Such abuses did not go unnoticed, and various governmental bodies and human rights organizations in the West responded by issuing statements and reports, documenting undue pressures exerted on the Crimean Tatar population. See: "A Timeline: Crimean Tatars under Russian Occupation."
Changes in Ukraine's policy towards Crimean Tatars
In a recent statement posted to Facebook, "Don't Cry for Us Ukraina! (Ukraine), Mubeyyin Altan reviews the recent changes in Ukraine's policy regarding Crimean Tatars. After being almost indifferent to the demands of Crimean Tatars for two decades, President Poroshenko's government several pieces of legislation. The Ukrainian Parliament recognized Crimean Tatars as indigenous people (March 2014) and their deportation in 1944 by the Soviet authorities as genocide (November 2015). At the international level, Ukraine also endorsed the UN Declaration on the Rights of of Indigenous Peoples (May 2014). Mr. Altan is on the Board of Directors of the ICC.
Human Rights Violations in Crimea
The Helsinki Commission (Commission on Security and Cooperation in Europe, an independent US government agency) held a briefing on human rights violations in Russian occupied Crimea at Rayburn House Office Building, Washington, DC, on 11 December 2015. The presentations focused on key findings of the recent report, "Human Rights on Occupied Territory: Case of Crimea," prepared by a team of international lawyers. Speakers addressed violations of civil, political, social and cultural rights of those who oppose the Russian occupation, Crimean Tatars, and other ethic and religious groups. Among the speakers were Ivanna Bilych, President of VOLYA Institute, and Andriy Klymenko, Chief Editor of Black Sea News. This important Report is available online.
See also: Halya Coynash's recent news report, "Open Lawlessness as Terror against Crimean Tatars."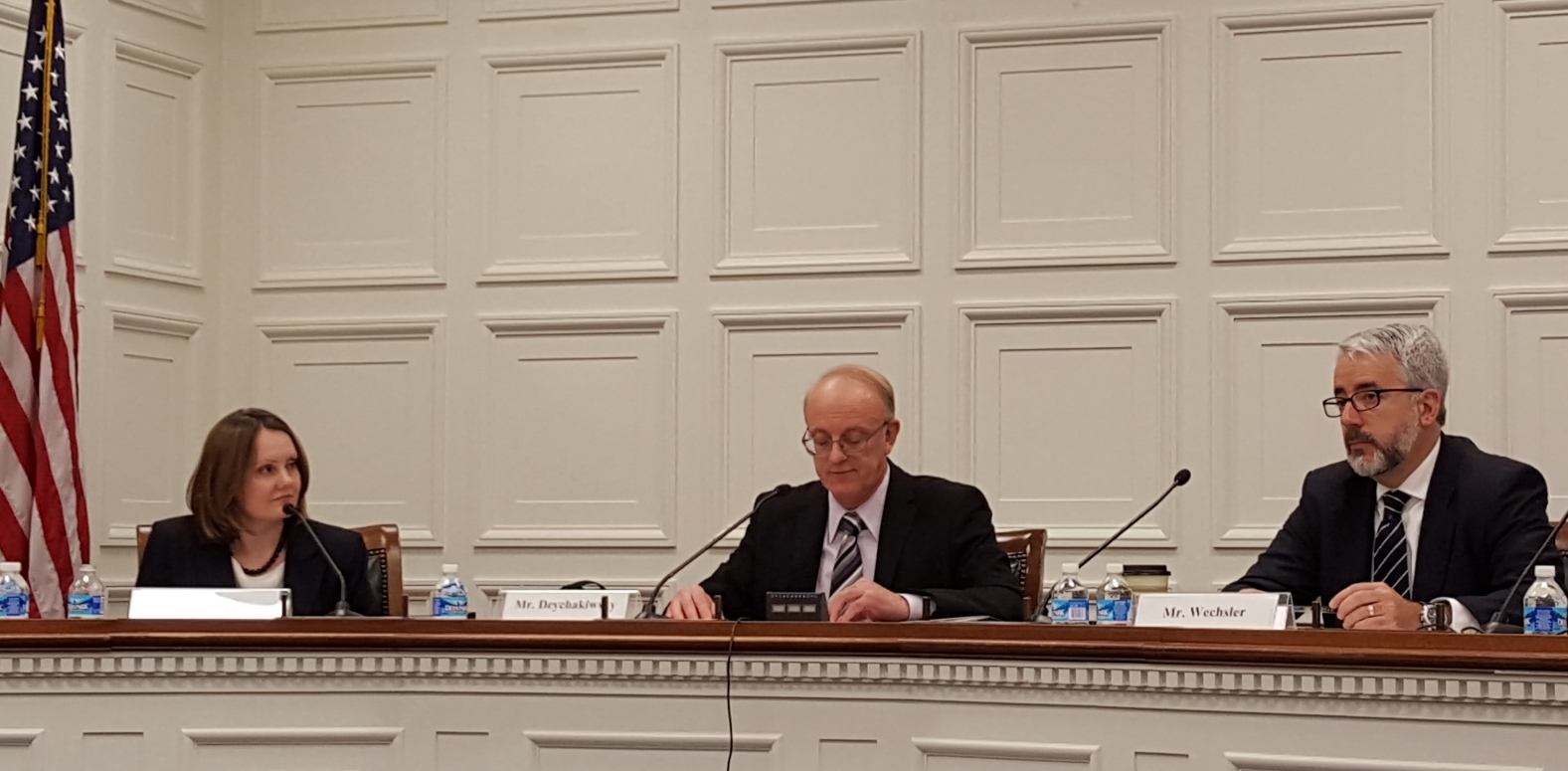 Helsinki Commission briefing, 11 December 2015
National Holodomor Memorial
The National Holodomor Memorial in Washington, DC was onveiled on 7 November 2015. The Memorial honors millions of Ukrianians who lost their lives during the 1932-1933 Famine-Genocide resulting from the repressive policies of Soviet government under Stalin. At the height of the man-made famine, 28,000 people were dying daily because the authorities confiscated the grain from the countryside and used it to raise revenues for Soviet industrialization.
National Holodomor Memorial in Washington, DC
Crimea and Crimean Tatars were not immune to the devastation in the mainland Ukraine. In fact, Crimea began experiencing starvation before the 1932-1933 Famine, as it was among the first places to feel the devastating effects of collectivization. In an article published in 1931,
Famine in Crimea,
Cafer Seydahmet Kirimer (1889-1960) described the famine conditions prevailing in a land which always had a surplus of foods.
World Congress of Crimean Tatars meets in Ankara
The Second World Congress of Crimean Tatars convened on August 1-2, 2015, in Ankara, Turkey. Attended by Tatar representatives from 12 countries, invited guests and government officials, the World Congress offered a platform for the Crimean Tatar diaspora to reaffirm its support for their kin struggling in occupied Crimea. While pro-Kremlin Crimean authorities put pressure on Crimean Tatar NGOs and leaders living in Crimea not to attend the Congress, many activists living in Ukraine were able to participate.
Second World Congress of Crimean Tatars.
The World Congress reelected Refat Chubarov as President and established an executive committee responsible for implementing its charter. It adopted a declaration regarding the indigenous status of Crimean Tatars, stating that "the right to self-determination belongs to the indigenous Crimean Tatar people." Secondly, the Congress also called on the international community to recognize the Russian aggression, beginning with the annexation of Crimea in 1783 and extending through the deportation of Crimean Tatars in 1944, as genocide. During that period, more than a million and a half Crimean Tatars were forced to leave their homeland and half of those deported in 1944 died as a result. (Photo Credit: Nese S. Karatay)
For additional information and photos, see: "Ankara Congress Underscores Why Crimean Tatars are Such an Asset for Ukraine and Such a Problem for Moscow" and "World Congress of Crimean Tatars held in Turkey."
Crimean Tatars on Postage Stamps
The Ukrainian State Enterprise for Postal Service (UkrPoshta) printed postage stamps honoring Crimean Tatars. Issued on 14 May 2015, the First Day Cover has four stamps, with inscriptions in Ukrainian and Crimean Tatar that may be translated as: "First Mausoleum of Crimean Khans," "Crimean Tatar Soldier," "Master Coppersmith" and "Dance of Haytarma." These stamps highlight aspects of Crimean Tatar history and culture. By issuing the Crimean Tatar stamps, the Ukrainian Government marks a new policy relating to an important minority group, Crimean Tatars as indigenous people of Crimea.
Crimean Tatars on Postage Stamps
Recent Additions to the ICC Web site
Three documents were recently published on the ICC Web: First, "Country of Craftspeople: Developing Crimean Tatar Culture in Diaspora," is a report by Greta Uehling about recent initiatives to maintain and develop Crimean Tatar arts and crafts in Ukraine. Secondly, "Space as Part of Crimean Tatar Identity: A Millenial's View," is an interview and comments by Brian Woods, who focuses on the concept of space in forming Crimean Tatar identity by interviewing a young woman who moved to Crimea with her repatriating family in the early 1990s. Her childhood memories and her reaction to the recent Russian occupation of her homeland are covered. Thirdly, Inci Bowman challenges the traditional notion that Crimean Tatars are basically Asian in nature by citing evidence that they carry European genes also. In her essay "Genetically, Who is a Crimean Tatar?" she argues that Crimean Tatars are descendants of the peoples who moved to the peninsula from different directions and lived there for centuries.
ICC Participates in Wreath-Laying Ceremony
On 12 June 2015, the 8th annual wreath-laying ceremony took place the Victims of Communism Memorial in Washington, DC to honor more than one hundred million people who were victimized by various Communist regimes. The ICC was among the 50 embassies and organizations that participated in the program. On behalf of ICC, Ilbay Ozbay presented a wreath in memory of all those Crimean Tatars who died as a result of repressive measures of the former Soviet Union. Unusual support for Crimean Tatars came from Free Cossacks of Ukraine in Toronto, Canada. A small group of Cossacks drove down from Toronto to participate in the ceremony.
Cossack Banner at Victims of Communism Memorial
"Crimea and the Crimean Tatars"
"Crimea and the Crimean Tatars" is a 4-minute slide program created by Barbara Wieser, a member of the ICC Board of Directors. It aims to familiarize the viewer with the homeland of Crimean Tatars and their recent experiences under Russian occupation. We would like to acknowledge the assistance of Lillia Muslimova in selecting the music and certain images. The program may be viewed on YouTube: https://youtu.be/cQAqBvvKJro
Photographs relating to Crimean Tatars and Related Activities
Photographs relating to Crimean Tatars and related activities are now available at the FLICKR or PICASA Web sites:
Last Update: 1 June 2016