Films about Crimea and Crimean Tatars
Since 2013 there have been a number films and documentaries about Crimean Tatars, varying from a TV documentary in 9 parts, "Son of Crimea" produced by Turkish Television and Radio (TRT) to an award-winning documentary, "A Struggle for Home" by an American media journalist Christina Paschyn. The eight films listed here with brief descriptions focus on the deportation of Crimean Tatars 75 years ago, their long and arduous national movement to repatriate, their struggle in their homeland Crimea upon returning in the 1960s and 1970s, and later in the early 1990s, and the repressive life since the Russian occupation of Crimea in 2014.
Haytarma, 2013, by former ATR Television in Simferopol, Crimea. It was directed by Akhtem Seitablaev, who plays the lead role. It portrays Amet-Khan Sultan, the well-known Crimean Tatar test pilot and hero of the Soviet Union, against the background of the May 1944 deportation of Crimean Tatars. This is the first film produced by Crimean Tatars, and "Haytarma" means "return" in Crimean Tatar. It was screened in Annapolis, MD and Washington, DC in 2014 and other cities as well. The original is in Russian and Crimean Tatar, but a version with English subtitles is also available. 1.5 hours long. Available on YouTube: https://www.youtube.com/watch?v=MeEZ9C6kC9k (Uploaded for ATR TV)
Review by G. Uehling: http://www.iccrimea.org/reports/kaytarma-review1.html
See also the Wikipedia article: https://en.wikipedia.org/wiki/Haytarma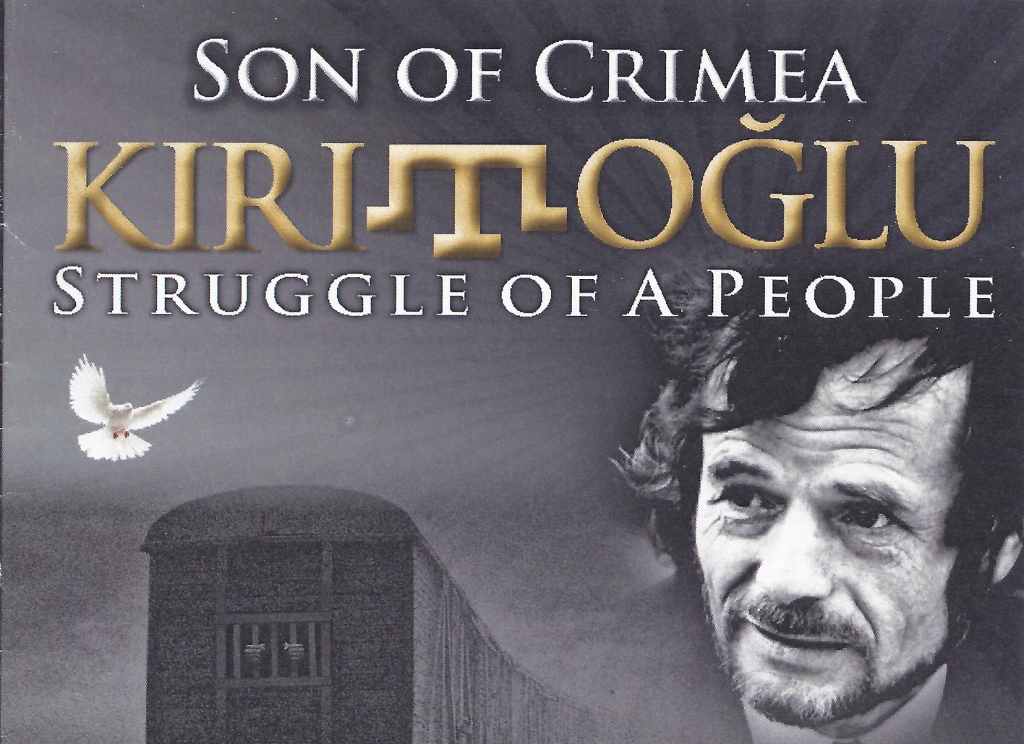 Documentary brochure: "Son of Crimea"
Son of Crimea: Struggle of a People, 2013, a documentary in 9 parts (30 minutes each), produced by Turkish Radio and Television (TRT). Directed by Nese S. Karatay and produced by Zafer Karatay, the documentary covers the 1944 deportation of Crimean Tatars, their life in exile and the national movement to return to homeland Crimea. Mustafa Jemilev, the well-known Soviet dissident and Crimean Tatar leader, is the principal narrator. It was screened in the Washington, DC area twice, Minneapolis, MN, New York and Chicago, IL, in May 2014. In Russian, Turkish and Crimean Tatar, with English subtitles.
A description of "Son of Crimea" is available:
http://www.iccrimea.org/reports/son-of-crimea.html
It was reviewed by Euromaidan Press: http://euromaidanpress.com/2015/03/28/son-of-crimea-a-documentary-of-the-crimean-tatars-arduous-struggle-to-return-to-their-homeland-watch-online/
Coming Back: A History of Crimea's Tatars, 2014, a documentary produced by Al Jazeera Media Network for the 70th anniversary of the deportation of Crimean Tatars. Directed by Ahmet Seven, the film deals with the deportation and the return, mostly through the interviews with the repatriates. Also included in the documentary is the Arabat Tragedy, the massacre of about 500 Crimean Tatars living on the Arabat Spit, a narrow strip of land northeast of Crimea. Two months after the mass deportion of the Tatar population, the Soviet forces in Crimea realized that these villagers were left behind. They rounded up inhabitants of the fishing village and drowned them on a sinking barge in the Azov Sea. The film is 45 minutes long and available online:
https://www.aljazeera.com/programmes/aljazeeraworld/2012/05/2012517132318999379.html
A Struggle for Home: The Crimean Tatars, 2016, by Christina Paschyn. Receipient of many international awards, the documentary features interviews with Crimean residents, survivors of the 1944 deportation, Russian nationalists and Tatar activists. It was filmed before the Russian occupation of Crimea in 2014 but updated prior to release. It won the Best International Film award at the DC Independent Film Festival. Screened at the Kennan Institute of the Wilson Center and US-Ukraine Foundation, Washington, DC, in May 2016, and many other US and European cities. 44 minutes long.
Film's Web site: http://astruggleforhome.com/
Film trailer: https://vimeo.com/astruggleforhome/trailer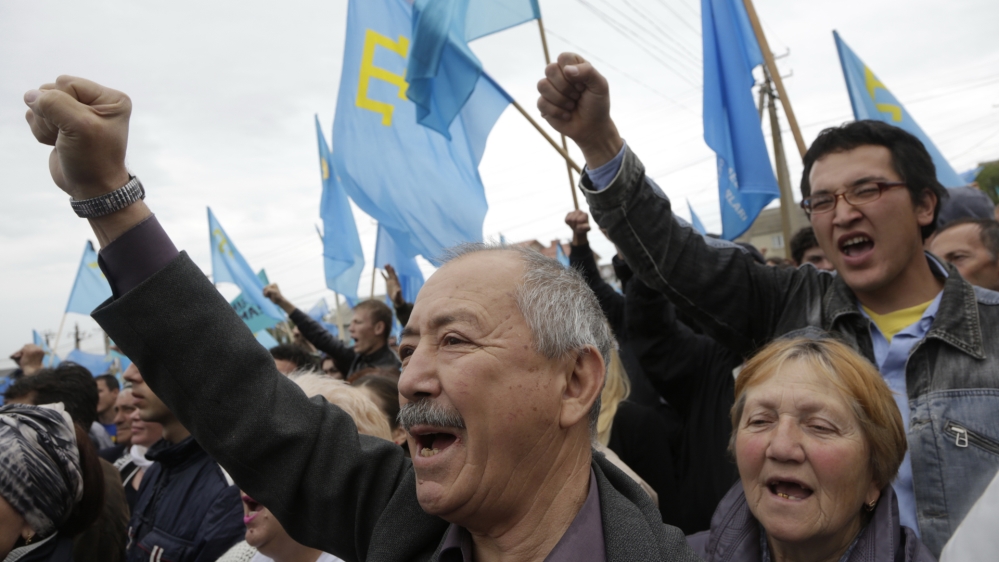 Screenshot:"Crimea: Russia's Dark Secret"
When Will This Wind Stop, 2016, directed by Aniela Astrid Gabryel and produced by Miroslaw Dembinski (Poland). The documentary focuses on a number of Crimean Tatars whose family members left Crimea following the Russian occupation of Crimea. One old woman, who experienced the deportation and exile, refuses to leave as she wants to spend her last days in Crimea. The film focuses on the loneliness and powerlessness of the people, and as one observer notes, "We witness silent deportation." In Russian, Crimean Tatar, and Ukrainian, with English subtitles. 66 minutes long.
Reviewed by Bartosz Staszczyszyn:
https://culture.pl/en/work/when-will-this-wind-stop-aniela-astrid-gabryel
Trailer available on YouTube: https://www.youtube.com/watch?v=w0mZkYHPovA&t=47s
Mustafa, 2016, by Tamila Tasheva of the Crimea SOS, Kyiv. The film is about the long struggle of the Crimean Tatar leader and activist Mustafa Dzhemilev. Funded by the National Endowment for Democracy, it was screened in Washington, DC and New York in 2018. 1.5 hours long.
Available on YouTube, with English subtitles: https://www.youtube.com/watch?v=Fosg3_TcpA8
Review of the film by Viola Gienger:
https://www.atlanticcouncil.org/blogs/ukrainealert/the-epic-struggle-of-crimean-tatars-captured-in-the-film-mustafa
Bilizkaya Dalekaya Rodina (Close Yet Far Homeland), 2016, a documentary written and narrated by the well-known historian Gulnara Bekirova, and produced by ATR TV, Kyiv. The film is based on interviews with descendants of the Crimean Tatar deportees, now living just north of the Crimean peninsula, in the southeastern part of Kherson region, mainland Ukraine. These are the families of Crimean Tatar activists who returned to Crimea in the 1960s and 1970s, but were not allowed to settle in their homeland. They tell the brutal treatment they received from the Crimean officials and the police, and their involvement in the Moscow demonstrations as part of the Crimean Tatar National Movement. In Russian, with English subtitles. 66 minutes long. Available on YouTube: https://www.youtube.com/watch?v=0dM0ji-F530&feature=youtu.be&fbclid=IwAR0yDGNeL9wBLCuZ2106xDZ8__q8NbERAyVIJoUuAGwrOnlffvAB42oEjE8
Crimea: Russia's Dark Secret, 2018, by Jamie Doran, a British filmmaker who produced the documentary for Al Jazeera Media Network. It covers the deportation and repatriation of Crimean Tatars, and helps one understand why Crimean Tatars continue to resist the Russian occupation. Mustafa Jemilev was interviewed extensively for this documentary. First screened in Kyiv in December 2018. 45 minutes long.
Available on YouTube: https://www.youtube.com/watch?v=Yqg7X7GLZsg
A description of the documentary, with a commentary by the filmmaker: https://www.aljazeera.com/programmes/specialseries/2018/12/crimea-russia-dark-secret-181212065810629.html
Homeward (Evge), 2019, directed by Nariman Aliev, and selected as the Ukrainian entry for the Best International Feature Film at the 92nd Academy Awards. It was screened at the Cannes Film Festival in 2019 and won the main award of Bucharest International Film Festival. The film is about a Crimean Tatar father, who takes the body of his older son to Crimea, accompanied by his younger son. The lead role is played by Akhtem Seitablaev, the well-known actor and director, who directed Haytarma (see above) and played the legendary WW II pilot in the film. In Crimean Tatar, Ukrainian and Russian. 1.5 hours long.
Trail is available on YouTube: https://www.youtube.com/watch?v=ThK0Qc87uh0
See also the Wikipedia entry: https://en.wikipedia.org/wiki/Homeward_(film)
Compiled by Inci A. Bowman
Posted: 4 May 2019
Updated: 13 August 2020
---