Surgun Stories Series
Mr. Zafer Karatay was among the first to meet the survivors of Surgun who were beginning to return to Crimea in the late 1980s. In 1993, he went to Crimea to prepare a documentary for the Turkish Radio and Television (TRT). Currently, he is Director of the Istanbul Branch of the TRT. He also represents the Crimean Tatar Mejlis in Turkey.—Ed.
Meeting the Survivors of Surgun
By Zafer Karatay
We, the new generation of the Emel family, took over the journal Emel in 1983. This flag bearer of the Crimean Turks' national movement aimed at drawing attention to the struggle of our brethren deported on May 18, 1944 from their Homeland Crimea. We tried to stimulate public interest in and support for our brethren's plight against oppression, with articles we wrote about their tragedy in exile.
I came to the realization of the extent of atrocities in exile and their effect on innocent and oppressed people in 1989. Some Crimean Tatars, though in limited numbers, started coming to Turkey from the USSR around that time. Arire Nezetli was among the first arrivals. As a group from the Crimean Turks Cultural and Assistance Organization, Istanbul branch, we went to welcome her at Safiye Nezetli's home in June 1989. Our visits to Aunt Safiye's home, filled with love of Crimea, were always filled with the Crimean atmosphere, accompanied with delicious and numerous different dishes from Crimea. The evening we visited Arire Nezetli was one of such unforgettable evenings. We started singing first happy then sad songs after a delicious meal and had long conversations about the struggle of our people trying to come back from exile and about the future of Crimea. Arire was happily watching us, smiling with glimmers in her eyes. She was occasionally joining us in songs. I was constantly looking at her, as she was seated directly across me, and I was sharing her happiness, shown through her eyes and face.
A survivor of Surgun, 1990
My friends started singing the exile song with the opening lines "Order [prikaz] was read in the evening of May 18." I was watching Arire. I also started singing, but could not continue. We were singing with a happy voice and mood, although this was an exile song. I witnessed for the first time such a sudden change in the facial expression of a person. It did not take even a second. The happy expression on Arire's face suddenly changed to fear, glimmers in her eyes to tears running down the wrinkles formed by long years of pain and sorrow. Those wrinkles were not visible a moment ago on that happy face. Wrinkles looked like streambeds made over the years by tears, like rain and floods make through fertile valleys and rough flowery plateaus. I choked. It was as if everything froze in time. My friends' voices were like railcar noises and creaking, mouths and lips moving. The only thing that had life in it was Arire's tears and facial expression. Endless sufferance and torture, injustice endured by innocent and oppressed people, rebellion against helplessness, cattle railcars, misery of the journey, the infant who died trying to suck milk from his mother's dried up breast, like a withering flower next to a drying spring, the stench of corpses rotted in the heat, of fathers, mothers, siblings and aunts, railroad disappearing in the foggy horizon, other trains crossing, poles along the railroad endlessly following one another, corpses leaning or lying at the foot of the poles, vultures on top of the poles, further away jackals licking their lips, not one day, not two, not one week, but 20, 25, 30 days or even longer travel, heat, dirt, lice, hunger, death, thirst, innocence, injustice, rebel, patience and fear. Everything that the words "May 18" reminded Arire poured right into me with every drop of tear falling from her eyes.
My tears certainly were not the expression of the same sufferance that Arire and thousands of other Crimeans like her experienced on May 18, 1944. But it was the first time I felt as if I lived their terror and sufferance. My tears were rather the expression of rebellion against injustice. I felt like a person who finally saw the light on his last days in a dungeon, a life wasted. I felt for the first time as if I lived through the exile. My God! It is horrifying even to think about it as I write. I cannot imagine how it would be to really live through it, while even thinking about it is difficult.
I do not dare anymore to ask a deported Crimean Tatar about his recollections. If I had to do, it was for the Crimean Documentary that I prepared for the Turkish Radio and TV or for the journal Emel. No description of the exile on paper can express the true extent of terror caused by the exile. It was not possible to include all aspects of the deportation in the Crimean Documentary, particularly in a single episode. Hundreds and thousands of movies and books need to be produced or published because each Crimean Tatar's story can be in itself the theme of a film or a book. These stories must be collected for the future generations in order to avoid the repetition of similar tragedies. They must be documented with every little detail.
I listened to and recorded on tape three or more memoires of deported Crimean Tatars after meeting Arire. I had to work intensely with these people in the summer of 1993 during the filming of the Documentary.
We were filming at the Crimean Tatar tent city set up by Cengiz Dagci at the foot of Gelinkayasi. Right below were the vineyards, just as Cengiz Dagci described it, further down was Kiziltas village, then Gurzuf, and Ayuvdag beyond, which met the cold blue waters of the Black Sea.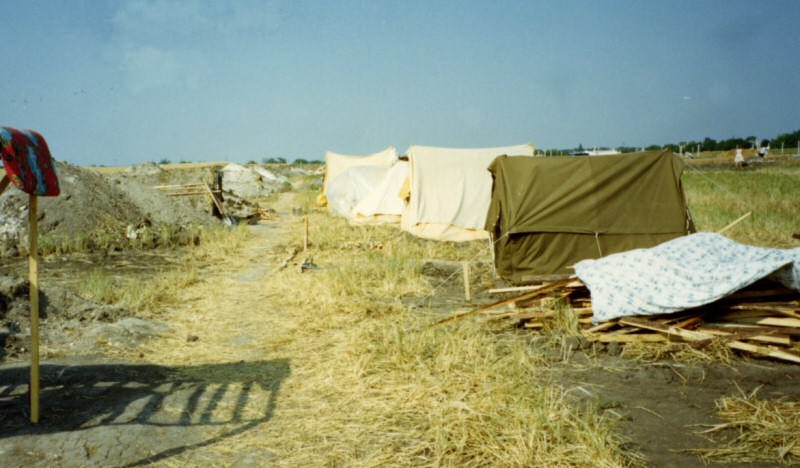 A tent city outside of Simferopol, 1990
There was not a single completed house in this tent city. I noticed a tent under a tree with a young person, 15 or 16 years old, and a woman. I approached them and introduced myself. She was cooking potatoes. After taking some pictures I asked them to tell me their story of the exile days. Fatma Sevket started recounting. She was 18 on the day she was exiled. She said, pointing to a house about 500 meters away, "This was our house. Now three Russian families live in there." When she went to visit the house, one of the Russian families agreed to show her around, but the other two refused to let her in. Now she was building a house on her grandfather's vineyard while she was living in a tent. She said she was thinking of her cows when she left Kiziltas for exile. She was concerned, on her way to a possible death journey together with her folks, about leaving her cows tied in the barn, because they would starve, their breasts would fill with milk. I thought to myself "My God, what a pure and innocent soul." I remembered my childhood when my mother used to send her cows to graze together with the village livestock. It may appear unimportant, meaningless or strange to others, but the thoughtfulness and worries of an 18-year old girl about the livelihood of her cows while herself was on the way to exile and possible death is indescribable. I was touched and my heart pained. This happened to me every time I thought about these people, ever since I met Arire.
I had to turn my back to Fatma Sevket while listening to her story, who was living in a tent, watching her unreachable house a short distance away, constantly crying and occasionally choking. I was not the only one crying, nor was Fatma Sevket, the whole film crew working on the Documentary was in tears. Tent city dwellers who gathered around us were also crying. Gelinkayasi, Kiziltas, Gurzuf were all crying. Ayuvdag must have been luckier because you could not see it crying, for its tears were mixed with the blue waters of the Black Sea.
The same feelings kept coming back to me as I listened to Ismet Bekirova, Battal Aga, Isa Abkadir, Nazmiye Ibrahim, Serife Omerova, Talat Ahmet, Mahfure Cemil, Fatime Kucukkiz and Cemile Saban. I learned a different aspect of the exile from each of them. I learned the tragedy and the terror of the exile as close as possible to reality.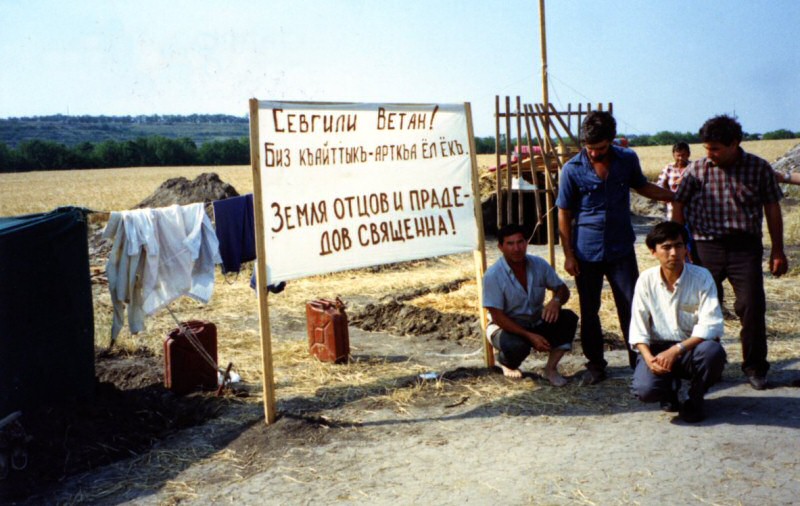 Camp of Crimean Tatar Returnees, 1990
Filming the Documentary was quite difficult, also editing it: to know the experiences and to remember the agony of these innocent people whom I met and talked to, and whose hands I kissed. I immensely admire and respect these people who were able to live through the injustice and tragedy of the May 18 deportation they had to endure. I could not bear these thoughts, but I had to recollect them while I was writing for the journal Emel or recounting them to someone else, or while preparing the Documentary in between my daily chores. There are days that one wishes not to have ever witnessed. To take back the days means to relive them. Although I know that it is impossible I want to do that. I wish that the May 18 tragedy was never lived. I will always wish it. Although I know that it is impossible not to have lived the days that were already lived, and to bring back the dead.
But there are things one could do. I can do something as a person, as a Turk and as a Crimean Tatar. I have a human duty, spiritual duty, moral duty to these people, to this nation and to Homeland Crimea.
This is the fiftieth anniversary of the tragedy of the exile, and we still did not pay our duty to our Homeland Crimea. Crying should not be our destiny.
Most of these people live in tents, or in conditions not even close to normal, in unfinished places that you cannot even call houses. Still in exile, longing for the Homeland.
Let us listen to a song by Ulviye Salavatova echoing from Gelinkayasi:
Let's arise friends! side by side
To struggle for Homeland.
It's a binding duty for us all,
To take all the Rights back (claim rightful ownership).
Let's go, go..
Move towards our Homeland
We never stop
Until everyone of us back in Homeland.
---
Translated into English by Metin Camcigil.
The original, "Sürgün Faciasını Yaşayanları Tanımak," was published in Emel, no. 202, May-June, 1994. (The song was translated by the author.)
Photo Credits: N.M. Altug (Istanbul), who was with the first diaspora group from Turkey to visit Crimea in July 1990, after Crimea Tatars began returning from exile.
Return to: Surgun Stories Series (Personal Narratives by Survivors or Eye-witness Accounts)
Posted: 27 May 2009