A Volunteer in Crimea: An Interview with Barbara Wieser*
Question: When you learned that you would be going to Crimea as a Peace Corps Volunteer (PCV), what was your first reaction?
I was elated. In the Peace Corps you have no choice about what country you are assigned to, or what region and work site within that country. When I was accepted into the Peace Corps and found out I would be going to Ukraine —a country I knew almost nothing about — I began to do some reading about the history, culture, and traditions of Ukraine. In the course of that research, I was particularly taken by the information concerning the Crimean Tatar people — that they are the largest ethnic minority in Ukraine, are Muslim, and are considered to be the indigenous people of Crimea. And I also learned their tragic history of oppression and deportation and their attempts to rebuild their culture in Crimea. My whole life has been focused on social justice work and the plight of oppressed minorities, so naturally I was drawn to learning more about the Crimean Tatar people and hoping that at some point during my Peace Corps service, I would at least have the opportunity to visit Crimea.
So I was overjoyed when they announced the site assignments at the end of our three-month training in Chernigov and I learned that not only would I be going to Simferopol, the capital of Crimea, I would also be working in the Crimean Tatar Library! And as it turned out, though I did not know it at the time, I would also spend the next four years living in a Crimean Tatar community.
Barbara Wieser (middle) at Gasprinskii Library
Question: During your four years in Simferopol, I assume you met other PCV's working in Crimea. How did your duties at the Gasprinskii Library differ from other assignments?
I met many other Volunteers during my four years in Crimea. Peace Corps Volunteers naturally gravitate towards other Volunteers in their region, drawn by the support we provide one another in navigating a world in which we have so little understanding of the language and customs. During my time in the Peace Corps in Crimea, there were several Volunteers assigned to libraries, and I tended to connect more closely with them, as we compared the experience of working in libraries in Ukraine and shared project ideas and resource information. My duties at the Gasprinskii Library were fairly similar to other library Volunteers, with the biggest focus on grant writing and English translation assistance. But, of course, given the mission of the Gasprinskii Library, there were differences. I learned early on that the Gaspinskii Library transcended the usual role of libraries in Ukraine. Established only twenty years ago when the Crimean Tatar people began to return to the peninsula in large numbers, the library became not only the repository of works by and about Crimean Tatars, it also became a cultural center for the Crimean Tatar people and one of the driving forces behind the movement to preserve the Crimea Tatar language and culture. Thus, much of my work centered on language and culture preservation, library work that was unique to my position at the Gasprinskii Library.
Question: What was a typical day like at the Gasprinskii Library?
I was partnered in my work at the Gasprinskii Library with the chief methodologist of the library, Nadjie Yagya. It is customary in the Peace Corps to be assigned a "counterpart." That person will be the primary person you work with and will help you through adjustments to your new living situation. In my case, Nadjie also became one of my closest friends in Crimea. Despite the language barrier — she did not speak English and my Russian was rudimentary, my Crimean Tatar even more so — we managed over time to communicate on a deeper level than I would have thought possible between two people of different cultures.
So, it was a great joy to work every day alongside Nadjie. My daily work consisted of researching funding possibilities, writing and translating grant proposals, teaching English to Gasprinskii staff members, serving as a guide when English speaking visitors came to the library, attending library events, writing a blog about library activities, and just being available in any way that I could be helpful.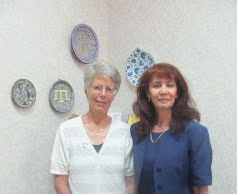 Barbara Wieser and Library Director Gulnara Yagyaeva
Question: What do you think some of your major accomplishments have been as a PCV?
I think, as is true for most Peace Corps Volunteers, that my major accomplishment is somewhat intangible —the cultural exchange that living four years in another culture has afforded me. I have learned so much about the Crimean Tatar people and have passed on at least some of that knowledge through presentations to other PCVs, my blog writing, talking with friends and family back in America. And hopefully, the people I lived and worked with learned a bit about America through their contact with me.
In terms of more concrete accomplishments, I was able to assist the library in acquiring funding to purchase a complete digital copy of Gasprinskii's Terjuman newspaper from the Russian National Library and also to purchase a large rare book scanner to digitize the Gasprinskii Library's rare book and newspaper collections. In addition, we conducted three Peace Corps sponsored trainings for Crimean librarians on Crimean Tatar literature and culture, promoting volunteerism in libraries and communities, and making a library accessible for visually impaired people.
Question: Do you have any advice or suggestions for a PCV coming to Crimea?
Crimea is a unique and wonderful place with a rich and ancient history of many peoples. Being a Peace Corps Volunteer in Crimea provides a precious opportunity to explore this beautiful land and to become acquainted with the people who call this land their home, the Crimean Tatar people. I would advise any Peace Corps Volunteer assigned to Crimea to recognize the wonderful gift they have been given and to take every opportunity to get to know the land and its people.
Hiking with a group of` students in Crimea
---
* In June 2013, Barbara Wieser completed her 4th year as a Peace Corps Volunteer at the Gasprinskii Library, Simferopol, Crimea. Currently, she is working on another Peace Corps related project at Ukrainian Women's Fund in Kyiv, Ukraine. She is on the Board of Directors of the International Committee for Crimea, Inc. The interview was conducted by Inci Bowman.
See also Barbara Wieser's Blog : Crimean Tatar Gasprinsky Library
Posted: January 1, 2014