On the International Human Rights Day 2011
Tale of Two Peoples
Mubeyyin Batu Altan
CTRIC, New York
During my years of living and working in Washington DC, on many occasions I had visited the National Japanese American Memorial (generally on International Human Rights Day) to pay tribute to the brave and innocent Japanese Americans. They were unjustly punished for their ethnicity by the US government, just like my people, the Crimean Tatars, who were unjustly punished by the Soviet authorities during almost the same time period. It deeply saddened me to read how blatantly their human rights were violated by the United States government. I had viewed the sculpture of the Japanese Crane caught in barbed wire (depicting the suffering Japanese Americans) and the walls with the names of ten camps where the Japanese Americans were deported to. I could not help but compare these two tragedies, the tragedy of the Japanese Americans and the tragedy of my people.
On my visits to the National Japanese American Memorial, I read the history of the Japanese Americans' internment chiseled on granite pieces and made part of this historic memorial to be reviewed by the American and world public. It clearly states:
ON FEBRUARY 19, 1942, 73 DAYS AFTER THE UNITED STATES ENTERED WORLD WAR II, PRESIDENT FRANKLIN D. ROOSEVELT ISSUED EXECUTIVE ORDER 9066 WHICH RESULTED IN THE REMOVAL OF 120.000 JAPANESE MEN, WOMEN AND CHILDREN FROM THEIR HOMES IN THE WESTERN STATES AND HAWAII....(from National Japanese American Memorial wall)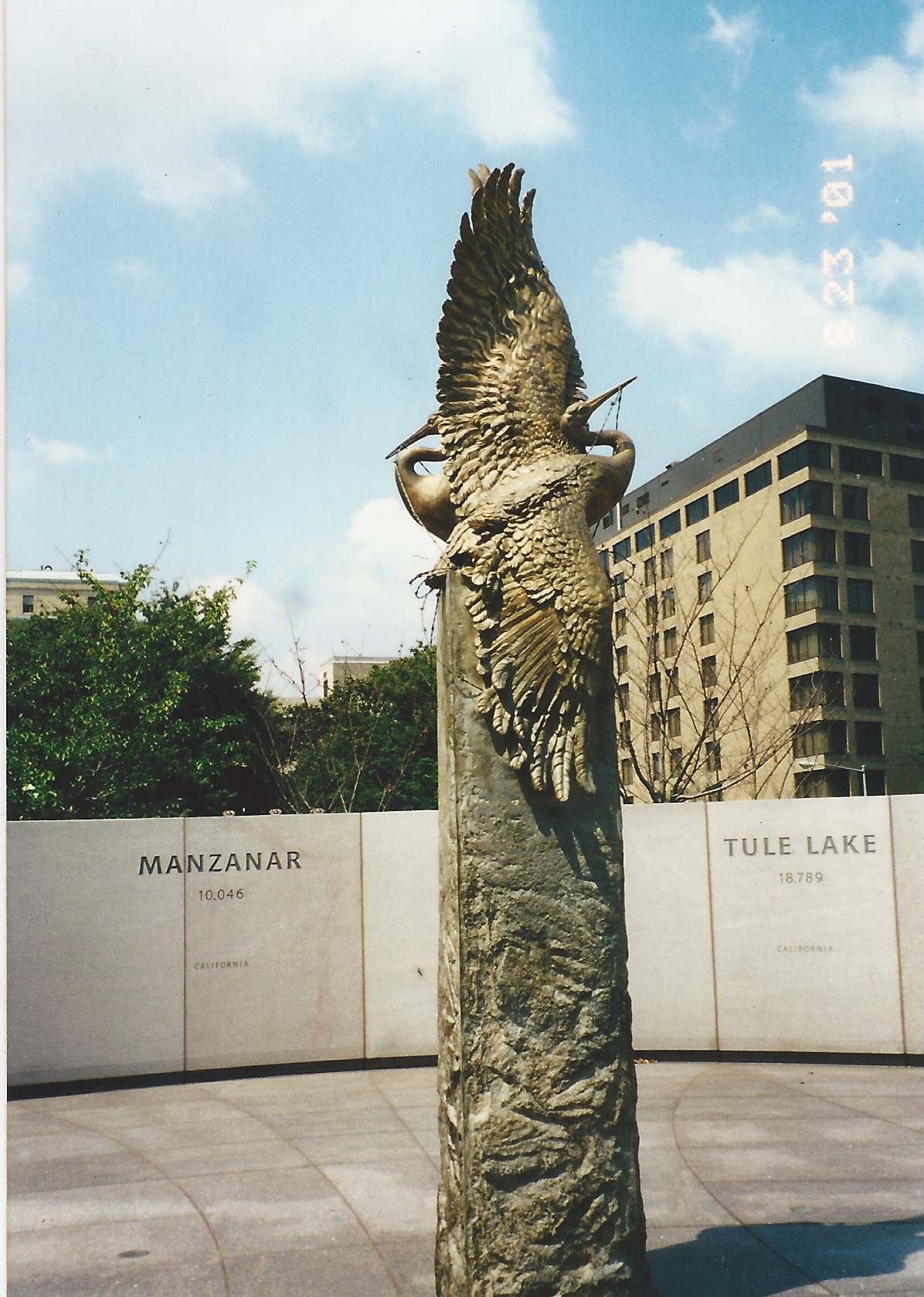 National Japanese American Memorial
Washington, DC
Almost two years later in another part of the world, the entire Crimean Tatar population in Crimea, about 200.000 indigenous people of Crimea, mostly women, children and elderly men, were forcibly awakened from their sleep and brutally removed from their homes under the watchful eyes of armed Soviet soldiers.
The story of Japanese Americans as written on the granite piece of the National memorial states that the Japanese Americans were:
...ALLOWED ONLY WHAT THEY COULD CARRY, FAMILIES WERE FORCED TO ABANDON HOMES, FRIENDS, FARMS AND BUSINESSES TO LIVE IN TEN REMOTE RELOCATION CENTERS GUARDED BY ARMED TROOPS AND SURROUNDED BY BARBED WIRE FENCES. SOME REMAINED IN THE RELOCATION CENTERS UNTIL MARCH 1946.... (from National Japanese American Memorial wall)
There is no mention of how many Japanese Americans died during this relocation or deportation.
Almost two years later, in the early morning hours of May 18, 1944 The Crimean Tatars, every single one of them, were brutally awakened, and given 15 minutes to get out of their homes, and in some instances were told not to bother taking anything with them as they would not return home. In many instances the families were unable to take even the bare necessities to survive. Crimean Tatars were not informed of what their actual crime was; they did not know the destination of their involuntary journey. They were loaded on cattle wagons without proper clothing, food and water, and deported to destinations unknown. Under the most barbaric conditions, the brutal journeys (they were deported to different parts of Central Asia, Urals and Siberia) lasted three to four weeks. Again, unlike the Japanese-American tragedy, which did not result in significant loss of human life, 46.2% of the Crimean Tatar population perished from hunger, thirst and illnesses on their way to Central Asia, mainly to Uzbekistan and during the first year of the deportation. The survivors were forced to live in special settlement camps until 1957. They were freed from the strict special camps during the Nikita Khrushchev administration, but were forbidden to return to their ancestral homeland. This special restriction motivated Crimean Tatars to launch one of the most organized, peaceful human rights movements in the history of Soviet Union (and even Russia).
It is interesting to note that both the Japanese Americans and the Crimean Tatars were branded as traitors. But this false accusation did not stop them from serving their respective countries in time of need:
...ANSWERING THE CALL TO DUTY YOUNG JAPANESE AMERICANS ENTERED INTO MILITARY SERVICE JOINING MANY PRE-WAR DRAFTEES.... (from National Japanese American Memorial wall)
Crimean Tatar Martyrs Memorial, Mt. Sinai, NY
Many Japanese Americans bravely fought for the United States and became decorated soldiers. Most of the able bodied Crimean Tatar young men and women also joined their country's armed forces and were defending their Soviet motherland while their parents, wives and children were brutally removed from their ancestral homeland, and from the homes they built. Almost 60.000 Crimean Tatar young men and women were serving in various branches of the Soviet Armed Forces, and many of them became decorated soldiers. These decorated soldiers, some with the highest honors, were not allowed to return to Crimea, and were told to travel to Central Asia to find their deported families.
...IN 1983, ALMOST FORTY YEARS AFTER THE WAR ENDED THE FEDERAL COMMISSION ON WARTIME RELOCATION AND INTERNMENT OF CIVILIIANS FOUND THAT THERE HAD BEEN NO MILITARY NECESSITY FOR THE MASS IMPRISONMENT OF THE JAPANESE AMERICANS AND THAT INJUSTICE HAD BEEN DONE.... IN 1988 PRESIDENT RONALD W. REAGAN SIGNED THE CIVIL LIBERTIES ACT WHICH MADE AN APOLOGY FOR THE INJUSTICE. IT PROVIDED MINIMAL COMPANSATION AND REAFFIRMED THE NATION'S COMMITMENT TO EQUAL JUSTICE UNDER THE LAW FOR ALL AMERICANS.... (from National Japanese American Memorial Wall)
Crimean Tatars were not so fortunate; in comparison they were forced to fight for their basic human rights and pressure the Soviet Government to allow them to return to their ancestral homeland. For years the Soviet government, let alone reinstating the rights of the Crimean Tatars, denied even the existence of such nationality. After many years of courageous struggle of the Crimean Tatar people, the Soviet Government was forced to promulgate a decree on September 5, 1967, exonerating Crimean Tatars from any wrong doing during World War II. About 10.000 Crimean Tatars, who returned to Crimea and tried to resettle there after the decree of 1967, were forcibly deported from Crimea and were told clearly by the authorities that the Decree of 1967 was not issued for them but to please the International community. They were told unofficially that Crimea was off limits and no Crimean Tatar would be allowed to resettle there. The brutal re-deportation of many Crimean Tatars motivated the national movement to intensify its activities to further pressure the Soviet government to politically and socio-economically rehabilitate the Crimean Tatars. There were hunger strikes (Mustafa Cemilev's 273 consecutive days), mass demonstrations and even self immolation (by Musa Mamut) to protest the Soviet Government's mistreatment of Crimean Tatars. It was during Mikhail Gorbachev's presidency that Crimean Tatars were able to return to Crimea in mass numbers. From 1989 to 1994, close to 250.000 Crimean Tatars were able to resettle in their ancestral homeland, using their own resources. Today there are 270.000 Crimean Tatars living in Crimea where they are still struggling to have their basic human and national rights reinstated. There are close to 200.000 more Crimean Tatars still remaining in Central Asia waiting to return to their ancestral homeland. In Crimea, the issues of land, national language, education and employment are still problems that remain to be resolved.
As we commemorate the International Human Rights Day in 2011, one can visit the National Japanese American Memorial near the Union Station in Washington, DC, to witness a sad chapter of history and see how a small ethnic minority was mistreated and suffered. And, one can read how this horrible wrong was righted and the inalienable rights of the Japanese Americans were reinstated. Also as part of the International Human Rights Day commemoration in 2011, one should pay a visit to Washington Memorial Park in Mt. Sinai, NY (on Long Island) where a small and simple monument erected in 1986 to honor the Crimean Tatar martyrs who perished during Surgun, the mass deportation. One will not be able to read a proclamation to exonerate the Crimean Tatars chiseled on this historic monument. One will read a brief statement, " In Remembrance of the Crimean Tatar Martyrs - May 18, 1944." Crimean Tatar Martyrs and the survivors of the brutal mass deportation of May 18, 1944, still wait for justice to prevail.
This is the story of two honorable and brave peoples who share almost the same horrible tragedy with totally different outcome. The Japanese Americans are exonerated, symbolically compensated for their losses and their rights reinstated. And, the Crimean Tatars, who after 67 years of their tragic mass deportation continue to fight for their national and human rights both in Crimea and in places where they were originally deported to. It is this author's sincere hope and wish that the representatives of the Ukrainian and Russian governments pay a visit to the Japanese American National Memorial to see how a historic wrong is righted. This may be too idealistic of a wish, but it is International Human Rights Day after all....
December 10, 2011
Cocoa Beach, Florida