OUR FORGOTTEN DIASPORA:
From Kulcora, Crimea to Curitiba, Brazil
After the war he was a displaced person in Mittenwald camp. He lived in Sonthofen until 1951.... He was a Kapellmeister of Cankaya Band and he came to Brazil in 1951….They called my grandfather Izzet.
This message was from Brazil, and Junior Castro wanted to find out more information about his grandfather, named Izzet or Ismet Kasim. He stated that he has many photographs and documents from the Mittenwald and Sonthofen camps in Germany, but he does not know much about his grandfather with whom he had lived until his death in 1983. The message was addressed to our Washington DC based group ICC (International Committee for Crimea).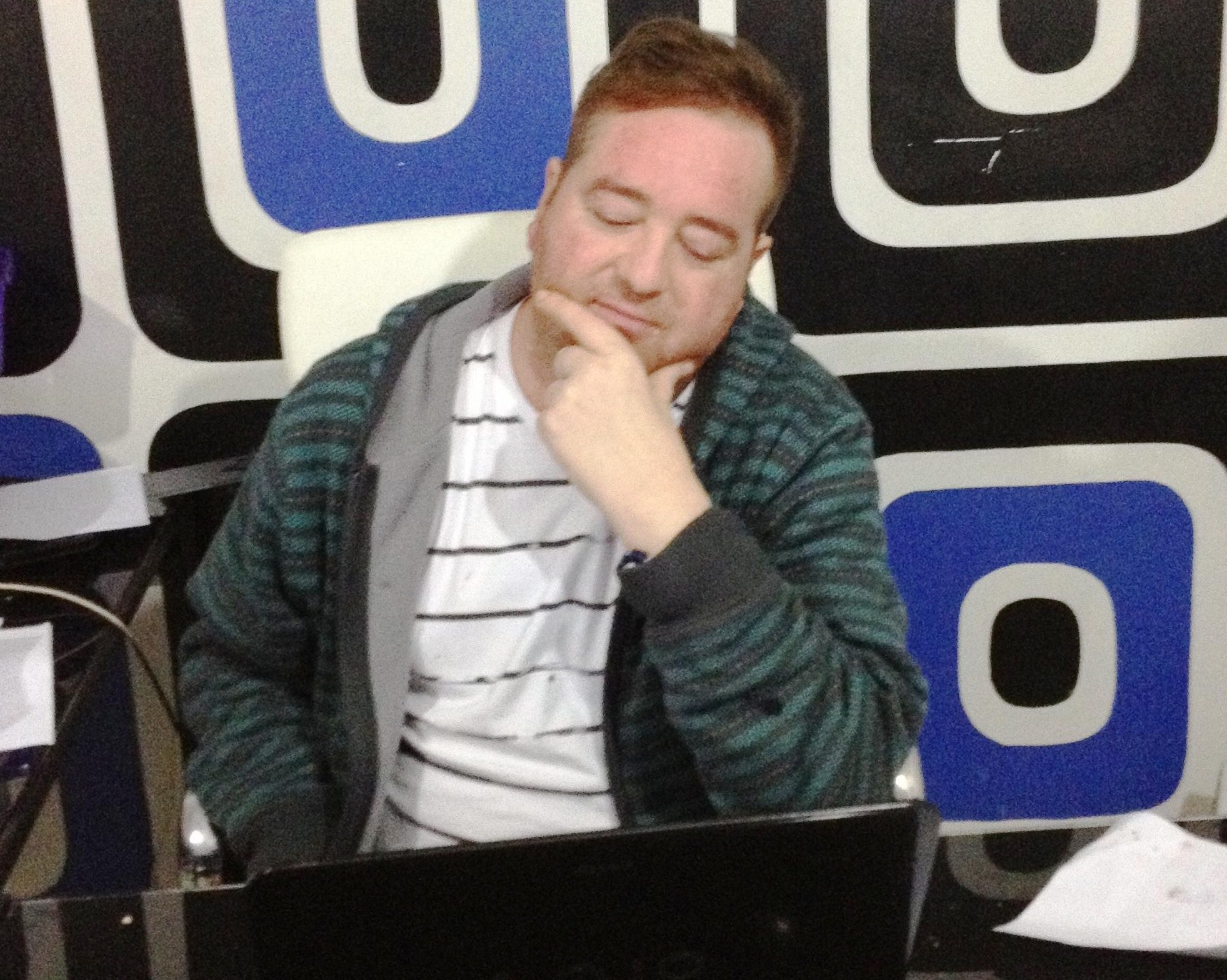 Junior Ben Castro
Who was Izzet, also known as Ismet Kasim? Why did he come all the way to Brazil? Why did he have different names, different birthplaces? Junior Castro, a young lawyer from Curitiba wanted to know. He then decided to send a brief message to the ICC, one of the very few English language Internet sites, if not the only one that focuses solely on the Crimean Tatar issues. My family was also displaced during the war and I lived the first six years of my life in the same refugee camps in Mittenwald and Sonthofen as a very young child. Reading the names "Mittenwald" and "Sonthofen" in a message from Brazil, the names which had become part of my vocabulary, did indeed excite me.
I contacted my 90-year old father Ibrahim and asked him if he remembers Izzet, a musician from Kefe, Crimea. My father with great excitement remembered him right away and informed me that Izzet was not from Kefe, but from Kulcora, the city where my father's family was forced to relocate after the turbulent years of collectivization under Stalin when many Crimean Tatars were deported to Ural Mountains. (Kulcora today is known as Nekrasovka in the Sovyetsky rayon, located in the eastern Crimea.) "In fact I remember living in Izzet's father's house in Kulcora," my father said. " I remember his two brothers; one was Kadir, the other's name and their family name I can't remember now...." Izzet, per my father's recollection, was married in Kulcora and had two beautiful daughters (again he did not remember their names)." He was a very talented musician and played multiple instruments well," my father remembered. "And his orchestra entertained our people at the camp; they were very helpful in cheering our otherwise sad and depressed people who had lost their homeland and left their loved ones behind." I told my father about Junior Castro and how he had contacted us. I also told him that Junior is going to send me some old photos from the camps that his grandfather had left behind.
Izzet (Ismet Kasim), 1951
The old photographs began to arrive from Brazil two and three at a time. I went to see my father and showed him the photos which created more excitement. We looked at every photo to identify the Crimean Tatars in the refugee camps. I was so glad that my father was still alive and remembered many of his friends. Spending the first six years of my life in those refugee camps I only had a very brief memory of Sonthofen and Mittenwald camps, but in family gatherings in Turkey the topic of conversation was always Crimea and our lives in refugee camps. I remember being told that not all Crimean Tatars immigrated to Turkey from the camps. Small groups of our compatriots had immigrated to Australia, Brazil, the United States and other countries after the war. The names of some of these forgotten compatriots were mentioned, but we never knew about their fate.
Izzet's official ID Card (Ismet Kasim)
My father provided some information about Izzet the musician that I could send to his grandson who was anxiously waiting to find out who his grandfather was. Izzet had married to a Latvian lady in the camps, and had two children, a son and a daughter, but again my father did not remember their names. He remembered that Izzet had left for Brazil with his friends Tohtar Osman and Neset Bozgoz, whom my father also remembered well. He did not have any information where in Brazil they had settled, and what their fate had become afterwards. My father with great excitement called his friends, only a handful of his remaining fellow refugee Crimean Tatars, to inform them that he has seen some photos of the Crimean Tatars who had immigrated to Brazil in 1951. Among the photographs we received was also a copy of Izzet's identification card, issued in Turkish and German, presumably by an agency in Germany. Izzet's official name was: Ismet Kasim.
I went to our community center in Brooklyn, New York in early March, with a hope that I could obtain additional information about Izzet so that I can relay it to his grandson in Curitiba, Brazil. To my surprise, I discovered that Zeynep Terli hanim was one of the close relatives of Izzet. And, Haci Remziye Sarayli hanim, also a member of our community and originally from Kulcora, knew Izzet and his family way back fromher home town. She is the only one who remembered Izzet's last name, Gaziev. Remziye hanim recalled that Izzet Gaziev had gone to Kefe (Feodosia) to study music. She also remembered Izzet's wife in Crimea and his daughters. It was an exciting day, indeed.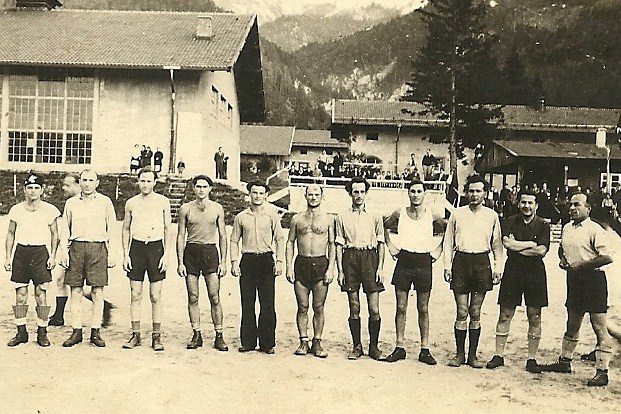 Camp Mittenwald, Germany, 1947
As we began to correspond with Junior Castro, the information I gathered about his grandfather was sent to him immediately. (Our correspondence continues to this day.) He responded with many questions as he wanted to know as much as possible about his grandfather, his personal history, his family and his national identity. "Even though I lived with him for many years until his death in 1983, he never mentioned about his family in Crimea, his wife or his daughters," Junior stated. "My grandfather is very important to me; I want to know his national and cultural identity."
Junior Castro shared what he knows about his grandfather: "Izzet 's second wife had passed away in Sonthofen and left him with two young children, a son Uri Herman and a daughter Monever. At that time Izzet decided to immigrate to Brazil, and with his friends Tohtar Osman and Neset Bozgoz they arrived in Curitiba, Brazil in 1951. Soon after Izzet married his third wife, a Brazilian of German descent, and they had six children. Junior Castro is Fatina's son, the oldest child of Izzet's new family. His daughter Monever is alive and lives in Curitiba.
I asked Junior about Tohtar Osman and Neset Bozgoz, his grandfather's friends with whom he left the Sonthofen refugee camps for Brazil. Did he know whether they are still alive or not? Junior did not know them but he promised to find out as much information as possible. Soon enough a message arrived from Brazil with an exciting news. " Mubeyyin you would not believe that I just talked to Kurt Bozgoz, Neset Bozgoz's son. He is a policeman in Curitiba. Unfortunately his father had passed away when Kurt was four years old, he does not know much about him." Junior was very excited and added that he also found Osman Tohtar's wife who is still alive. Unfortunately she informed him that Tohtar Osman had passed away last year.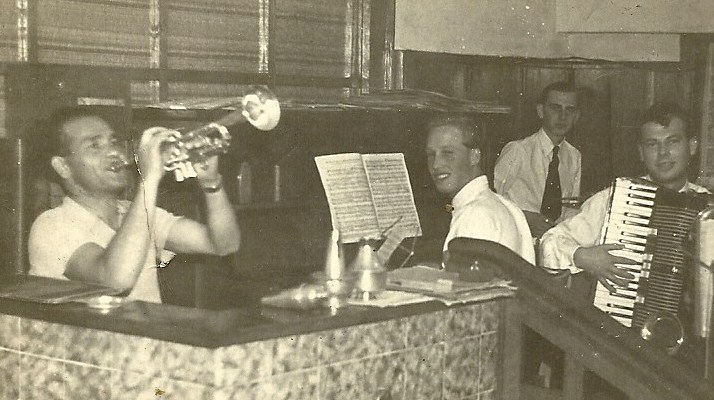 Izzet, the trumpet player, 1951
My father contacted his friend Ablekim Sarayli (Remziye Sarayli's husband) who also was in Mittenwald and Sonthofen camps at the same time period. Mr. Sarayli also remembered Izzet Gaziev. As a young man, he had learned how to dance to the music of Izzet Gaziev and his orchestra in Sontofen. My father knew Izzet's brother Kadir from Kulcora, but could not remember the second brother's name. When my father asked Ablekim whether he knows anything about Izzet Gaziev's brothers, this time it was Ablekim's turn to get emotional. He told my father that he actually corresponded with Izzet's brothers Mehmet and Kadir who were feverishly searching for their long lost brother. In fact he had sent Izzet's photograph taken in 1951 which had created emotional moments for Kadir and Mehmet Gaziev. What became of Mehmet and Kadir afterwards is not known as yet.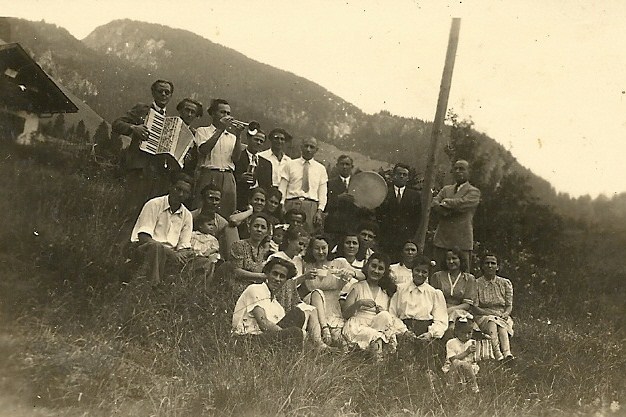 Outing at Camp Sonthofen, with Band Cankaya, 1948
In the meantime, through Ablekim Sarayli we found out some more fascinating information about Izzet Gaziev's first family, his Crimean Tatar wife Emine and his Kulcora-born daughters Hatice and Fatina. Ablekim was able to contact Izzet 's first grandson, Hatice's son Ruslan in Bukhara, Uzbekistan. I also called and talked to both Ruslan his mother Hatice. Ruslan informed us that Izzet 's first family was subjected to Surgun of May 18, 1944, and after the mass deportation they ended up in Bukhara. We were informed that Izzet 's first wife Emine Gaziev had passed away in 1999, but his daughters were still alive. Hatice and her family lives in Bukhara, and Izzet's youngest daughter Fatina lives in Fergana.
All this additional information regarding Izzet Gaziev's Crimean family was sent to Junior Castro who expressed his appreciation for learning more about his grandfather whom he respected and loved, but had no idea who he exactly was. Junior Castro is now trying to establish closer relations with his newly found relatives and his extended family.
Junior Castro also expressed his interest in locating other Brazilians of Crimean Tatar descent. He already found some of them, and will extend his search to locate some more. He wants to establish a new community, a new association where they can get together to learn more about their Crimean Tatar past. As an attorney and a politician, he wants to inform the Brazilian public about his grandfather's people, the Crimean Tatars, their culture and their ongoing tragic history. Yes, one young Brazilian lawyer's deep love and respect for his grandfather enabled us to discover the "Forgotten Crimean Tatars," the ones quietly left the German refugee camps and resettled far away, a city called Curitiba in Brazil. We are learning more about the new Crimean Tatar Diaspora in Brazil. Thanks to Junior Castro's love and respect for his grandfather and his curiosity, a new page has been added to the history of the Crimean Tatar emigrations.
Mubeyyin Batu Altan
Crimean Tatar Research and Information Center
New York
April 5, 2012
PS: For those soccer fans who follow Fenerbahce: Fenerbahce's captain Alex De Sousa is from Curitiba, Brazil. Junior Castro who has played professional soccer in Brazil as well as in the Middle East, informed me that he has played against Alex many times. And hearing a grandson of a Crimean Tatar refugee from my hometown Kulcora has played against one of the most popular soccer star Alex De Sousa was, indeed, a pleasant surprise.
---
Posted: 20 March 2013
URL: http://www.iccrimea.org/reports/our-forgotten-diaspora.html