A specialist in Russian language and linguistics, Adile Emirova was born in Crimea and educated in Uzbekistan. She graduated from the Alisher Navai Samarkand State University, where she subsequently taught and completed her doctoral studies in 1969. In addition to her better known work on Russian phraseology (Russkaia frazeologiia v kommuniktivnom aspekte), published in 1988, she is the author of several dictionaries and books, and numerous scholarly articles. After she moved to Crimea in 1990, she has been actively involved in the revival and development of the Crimean Tatar language. Her recent publications include a book on Bekir Çobanzade's work on the Crimean Tatar grammar, 2003; a translation of Cengiz Dagci's autobiography (Hatiralarda Cengiz Dagci) from Turkish into Russian, 2003; and a dictionary of Russian-Crimean Tatar phrases, 2004. She is a member of the Crimean Academy of Sciences, a member of the Ukrainian National Writers' Union, and a Ukrainian Distinguished Scholar in Science and Technology. I met with Professor Emirova during her visit to the Washington, DC area in August 2006, and she recently completed the following written interview. — Inci Bowman
IB. You were a young girl when the Crimean Tatars were deported from their homeland in 1944. Could you share with us some of your memories about the Surgun.
AE. I was 11, when the Crimean Tatars were deported from the Crimea. Of course, I remembered much myself, but when I decided to write down my recollections of that tragic day, I asked my father and elder sister about those events. At the end of 1989 I wrote memoirs "Nostalgia" and sent it to the Crimean Tatar newspaper Lenin Bayragi, which was published in the capital of Uzbekistan — Tashkent. The text was translated into the Crimean Tatar language and published in two issues of the newspaper, February 1 and 3, 1990. The following is an extract form that publication:
Late at night we were trucked and taken to the railway station through Ay-Petry. The same night we were put into the freight wagons, soldiers closed the doors from outside, and the train set out to an unknown destination. They opened the doors only far from towns and villages. Many people who had not managed to return to the wagons after the stop were left in uninhabited places where they soon died. The dead had to be left just on the ground near the wagons because we were not allowed to burry them. It took us more than 20 days to get to the Tashkent region, where we were taken off the train and to a state farm (sovkhoz). For the first three months we lived under trees, on the ground because there were no spare houses. We were starving, were ill, had no clothes and shoes, as we were forbidden to take anything with us when we left our homes.
The interested reader may refer to the full text of my memoir, published at the "Crimea and Crimean Tatars" Web site (in Russian): www.kirimtatar.com
IB. How did you become interested in the Russian language and linguistics, and what do you feel is your major contribution to the field?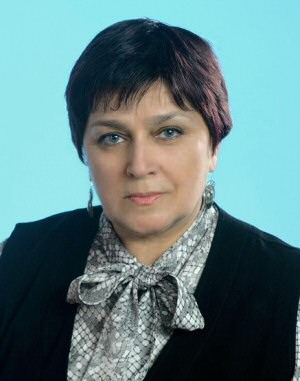 Adile Emirova
AE. There were no Crimean Tatar schools in places of deportation. Children studied only in Russian and Uzbek schools. In 1952 I finished school with honors and wanted to study at the university. But there was no university in our small town. It was also necessary to get a special permission from the main KGB commandant's office in Tashkent to go to another town. The permission was not generally given as they did not want Crimean Tatars to get higher education. One might say I entered Samarkand University's Department of Russian Philology by chance. Hence my special interest in the Russian language and literature.
My scientific researches in the field of Russian phraseology are known in many countries interested in the same problems such as the countries of the former USSR, Germany, Austria, the USA, Bulgaria, Croatia, etc. The special field of scientific analysis of Russian phraseology, i.e. communicative (cognitive) phraseology, has been developed by me. I am thankful to Allah for this because at present I use all my knowledge of the theory of philology here in the Crimea for studying and reviving the Crimean Tatar language.
What have I done and what am I doing in this direction? I am studying such socio-linguistic problems as language competence of Crimean Tatars, the status of language and language policy in the Crimea and Ukraine. I have made presentations at various international conferences - more than once in Moscow, St. Petersburg, Kiev; in Germany (1993), Austria (1995), Japan (1997), France (2004) and others. I have published dictionaries and books, supervised research of post-graduate students on the problems of the Crimean Tatar language, delivered lectures on the theory of language to Crimean Tatar students; and translated from Turkish into Russian the writings of an outstanding Crimean Tatar author living in London — Jangiz Dagzhi (Cengiz Dagci). More than 200 articles belonging to different genres, half of them devoted to the problems of Crimean Tatar philology, have already been written and published.
IB. After you returned to Crimea, as you indicated, you became interested in the Crimean Tatar language. Why is Crimean Tatar considered an endangered language? What has been done to revive the language and what should be done?
I returned to my homeland, the Crimea, upon invitation of the rector of Simferopol University in December 1990. I took up a position of Professor of Russian Philology. The Department of the Crimean Tatar Language and Literature was founded at the university the same year. I delivered lectures on the Russian language to the students of this department, but I always tried to draw a parallel between Russian and the Crimean Tatar languages and to characterize its categories. So, gradually, being a specialist of the Russian language, I faced the necessity of studying the problems of my native language.
Why is the Crimean Tatar language still under the threat of disappearance? Two generations were born and grew up in exile. Almost all of them were taught in Russian schools and some of them in Uzbek ones. There were many mixed marriages, and children of such families speak only Russian. I studied this problem and came to the following conclusions.
In terms of language competence, Crimean Tatars can be divided into four groups:
symmetric bilinguals, who fluently speak both Russian and mother tongue in all social spheres;
asymmetric bilinguals, using mother tongue only in family and Russian in all other spheres of life, including family;
asymmetric bilinguals, using the Crimean Tatar language (in the form of local dialect) in family and having limited usage of Russian;
monolinguals, having the command of only Russian or only Crimean Tatar.
The first and the third groups are restricted numerically. The first group includes the representatives of intellectuals: teachers and instructors of the Crimean Tatar language and literature, writers and journalists; the third group comprises the elderly people with a low level of education. The second group is the most numerous one, which includes young and middle-aged people, having received education in Russian schools and institutions of higher learning. Monolinguals are presented by two unequal parts: a) a numerous group of children, young and middle-aged people, as well as those having been born and brought up in mixed families (speak only Russian); b) a small group of very elderly people who have not been taught in Russian schools (speak only Crimean Tatar). For the representatives of the first two social groups permanent switching from one language into another is common not only in the spheres of communication, but even within the limits of one communicative act. Their speech often includes various Russian "disseminations" and loan words
IB. Why do Crimean Tatars, who for the most part consider Crimean Tatar to be their mother tongue, often use Russian even in the home environment?
AE. The reasons are both linguistic and non-linguistic. The main reason is their poor vocabulary. Let me expand on the problem of the revival and development of the Crimean Tatar language, which has two aspects: socio-political and linguistic.
Socio-political aspect the of revival and development presupposes the solution of a number of interrelated problems:
1. Distinguishing social status of the language. According to Article 10 of the Constitution of Ukraine, the Crimean Tatar language has a status of a minority language - the language of a national minority. In practice, as the last decade has shown, such status does not qualify it for necessary financial support from the government. Today minority languages are offered substantial challenges with the ratification by Ukraine of the European Charter for regional and minority languages (2003). This presupposes periodic accountability of multinational state as regards to its language policy. The implementation of European Charter statutes, i.e. their adoption as part of Ukrainian social policy, is pending.
2. Expanding the system of upbringing and educating children in the Crimean Tatar language. Additional schools with curriculum in Crimean Tatar should be opened. There are 15 such schools today, which provide education for about 5,000 pupils out of a total number of 40,000 children of school age. Two Crimean universities prepare teachers of the Crimean Tatar language and literature, and the necessary educational and professional literature is published.
3. Extension of functional area of the Crimean Tatar language. Optimal mastering of any language takes place in a permanent language environment. Various factors play a role in creating such environment: mass media, macro- and microtoponymy; road signs, signboards, advertisements, slogans etc. At present the Crimean Tatar radio and television has two and five hours of airtime respectively, and four magazines and three national newspapers are published in Crimean Tatar. The original Crimean Tatar toponymy has not been restored yet.
In addition to the social-political aspect, in the revival of any language the linguistic aspect also plays a role. Collecting and preserving all surviving dialects of the language in technologically feasible media are as important as the codification and optimization of standards in literary language. These problems are not being addressed today because of the lack of qualified specialists and sufficient funding from the government. The measures so far taken for the revival of the Crimean Tatar language should be continued. In general, there are reasons for optimism, as I believe the Crimean Tatar will be restored to its original status as the language of native people of Crimea.
I am happy that Allah allowed me to come back to my homeland and to be involved in the revival and development of my native language as the foundation of our national culture.
27 March 2007
Posted: 12 April 2007
---