The Personal Narrative of Marlyen Byekirov Ridvanovich:
Reflections of a Young Crimean Tatar
Written by Marja Anne Byekirova*
My name is Marlyen Byekirov Ridvanovich, and I was born in Andijan, Uzbekistan, in 1984. My memories of Uzbekistan are few, but those which do continue to occupy a place in my mind are of hot days, tasty watermelon, and kindergarten friends. I realize that for many older Crimean Tatars their time spent in Uzbekistan was dominated by the thought of returning home to Crimea, and while I was taught to want the same I have only fond memories of Uzbekistan, and have long nurtured the desire to return if only to once again bring to life these brief, fading memories that I have.
When I was about four years old in 1988 my father went on a two week vacation, leaving my mother and me at home. He had gone to visit his oldest cousin in Ukraine, and while I think that he might have also known that he would like to find a way to stay there, I did not know it at the time. My mother received a phone call from him shortly before he was due to return telling her to begin preparing for a change; he had obtained a job in Ukraine and we would be moving.
I do not remember much regarding the move, but I do remember the airplane. I had seen airplanes before but had never ridden in one, and as a little boy that was very exciting to me. Upon landing, however, I was struck by how different Ukraine was from my home in Uzbekistan. It was winter and the streets of Kiev were cold and filled with snow. I missed the heat.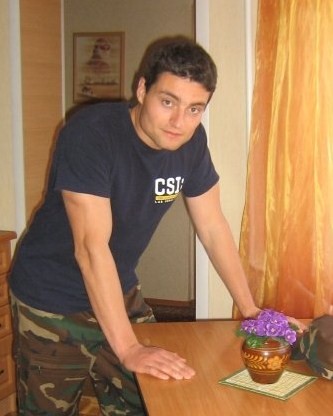 Marlyen Byekirov Ridvanovich
Our new home was to be in the city of Melitopol, which was known as being one of the "gateway cities" to Crimea, but was not in Crimea itself. Many Crimean Tatars moved to Melitopol after the USSR broke up because it was very difficult to obtain permission to move to Crimea but was easier to gain permission to go there. Our family was one of the first families to move to Melitopol before the Soviet collapse. My father likes to highlight that although it was relatively easy to move to Melitopol compared to Crimea it was still a painful process which involved a large amount of paperwork designed to ascertain why it was we wanted to move there. If we had wanted to move to Crimea it would have been nearly impossible since the government still practiced highly discriminatory processes which would have prevented us from buying a home or obtaining work.
We shared a house with my father's cousin in Melitopol for some time before my father was able to buy us our own house. I didn't like it there; it was a small, old house, and it did not compare to the nice apartment we had owned in Uzbekistan. The house my father eventually bought was not much better; it was very small and not well-made. It was also extremely cold in the winter as the only heat it had was produced by a small coal-burning stove. My father quickly set to work on the little house in order to make it more comfortable and larger. We needed more room since my mother was going to have another baby, my little sister.
I have heard stories from my extended family in Crimea regarding the level of discrimination there and what they lived through growing up. I do not think that it was so difficult for me in Melitopol, although I do remember encountering it from time to time. It was more trying for my parents, since they had to find jobs and establish connections, which was made difficult because of their Crimean Tatar names. The one place I ever experienced any type of discrimination was at school, where I always felt a little bit different from my classmates.
School was very difficult for me in the beginning since I had not learned the Ukrainian language, but since I was so young I picked it up quickly. I turned out to be an outgoing child and had a lot of friends, but not many Russian friends. My parents had warned me that this might be the case, and that Russian children might be tempted to make-fun of me since I was a Crimean Tatar and thus a Muslim. They were right, and I was occasionally called a "black ass" by my peers, which was a popular derogatory term at the time. I went through a period of violent behavior as a result, starting fights with schoolmates who were unkind. I developed a reputation in my school as not being someone you wanted to fight, since I would win. I had a black-belt in karate and expertise in such martial arts as Maui Thai and kickboxing, which earned me respect in school and kept other students from messing with me.
Following high school I went on to college where I received a professional degree in International Economics. My parents are both accountants and I wanted to follow in their footsteps since there was money to be made in that field. However, as a restless young man I wanted to see the world and knew that if I were able to learn English it would be well looked-upon and would result in higher-paying jobs in Ukraine, so I decided to move to America to work and study. I wound up living in the state of Iowa after only my second time on an airplane and with very little English expertise. There I would stay for the next two years of my life before meeting my future wife and subsequently living in Colorado and California. Today, I am a green-card holder and hope to soon begin studying for an American master's degree so that I may learn the American system of accounting and obtain a good job here.
I am very proud to be a Crimean Tatar. We are a very small nationality, less than 500,000 people, and so I know that I must be a positive representative of my culture everywhere I go, whether I live in Europe or America. I feel, as a Crimean Tatar, that I am a "part of something good," and continue to respect my flag, music, history and traditions here in America. I honor my grandparents' memories and the stories they told me regarding our past, but I also look forward to the future of Crimean Tatars and my own future here in the United States.
My destiny has changed now that I have had the chance to come to this country, and I am grateful for that. Here the government does not care who you are; if you are an honest person and a hard worker you can accomplish anything no matter your nationality. That is one of the things which have continued to surprise me the most since I have lived here. Ukraine has many different nationalities living within its borders but these groups tend to stick together and fight amongst each other. Here in America that is not so much the case and everyone is treated as equals. As someone who has known something different, I appreciate and respect that, and I look forward to continuing to build a life here.
*Based on interviews with the subject conducted in May 2009.
Posted: 21 June 2009