Dear Dr. Lee Edwards, supporters and staff of the Victims of Communism Memorial Foundation, leaders of ethnic communities and distinguished visitors from overseas:
I would like to convey to everyone my gratitude in having this wonderful event be a dedication of a memorial to the Victims of Communism. In the Encyclopedia of Genocide, in the section titled, Soviet Gulag State, one reads the following:"There can be no doubt that the Deportation Program was at least genocidal...estimates on the loss of life are not very exact, but in the WORST CASE, IS THAT OF THE CRIMEAN TATARS, mortality reportedly approached fifty percent."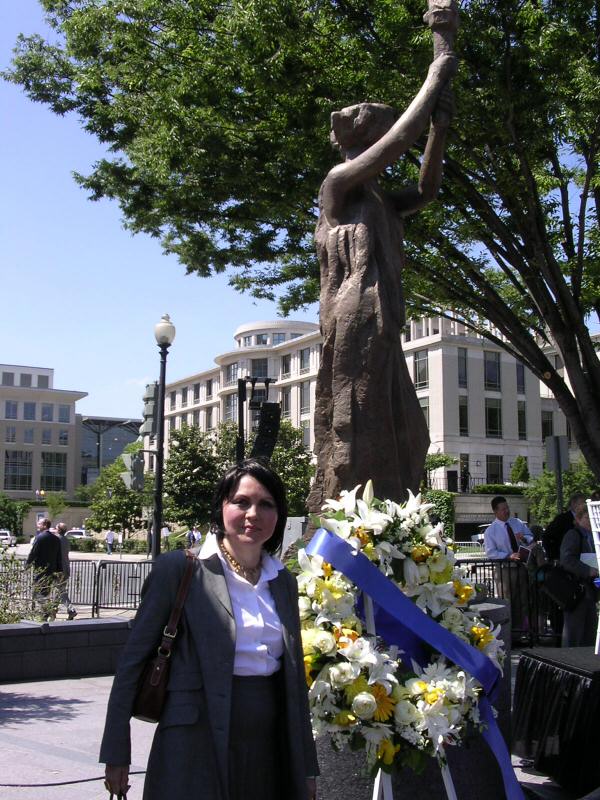 Ayla Bakkalli at the Victims of
Communism Memorial site
The Crimean Tatar Mejlis in Crimea, Ukraine, that I am representing today at this honorable event, is a national self government of the Crimean Tatar people, whose leader is the father of the resistance movement (Chairman Mustafa Cemiloglu) and one of the most active dissidents and human rights activists in the former Soviet Union. He was in prison and hard labor camps for a quarter of his life, leading a movement that resulted in the return of approximately 250,000 Crimean Tatars to Crimea.
The Crimean Tatars were victims of ethnic cleansing and deportation policies under Joseph Stalin's communist Soviet regime. The Crimean Tatars were forcibly deported en masse on May 18, 1944 to far off regions outside of Crimea. Let me state that despite the unbearable hardship the Crimean Tatars throughout their exile maintained a strong national identity and always addressed their issues thorough democratic methods.
The success of the Crimean Tatar Mejlis in preventing the spread of violence rests on its EXCLUSIVE reliance on negotiation, international support, and non-violent public protests, all with the use of democratic methods.
The democratic methods employed by the Crimean Tatar Mejlis achieved what was previously inconceivable, such as the repatriation and citizenship for majority of Crimean Tatars, and holding seats in the Ukrainian Parliament. You see ladies and gentlemen, democracy gives us choices, it is the one and only system that gives dignity and honor to all human beings. My parents were victims of communism who were among those who got loaded onto the cattle wagons to be shipped off to distant lands away from Crimea. I am here also for them, and have the distinct honor of representing the Crimean Tatar Mejlis at the Victims of Communism Memorial. A most deserved acknowledgment of our suffering in the hands of communism. I thank you once again for this dedication.
Ayla Bakkalli
Representative of the Crimean Tatar Mejlis (Simferopol)
New York City, NY
* Remarks delivered at the Reception following the Official Dedication of the Victims of Communism Memorial on 12 June 2007 in Washington, DC
Posted: 20 June 2007