"Clouds, Clouds" -- A Poem
This popular poem by Bekir Sıtkı Çobanzade (1893-1937), a Crimean Tatar scholar and poet, was translated into English by Mubeyyin B. Altan. Mr. Altan was inspired to translate Çobanzade's poignant poem while watching a strikingly colorful sunset in Cocoa Beach, Florida. He felt he was back in Crimea, where he had heard for the first time the famous Crimean Tatar tenor Femi Mustafaev sing "Bulutlar, Bulutlar" [Clouds, Clouds], likely composed by the renown Crimean Tatar composer Ilyas Bahşiş. The poem was originally published in 1930 in the Crimean Tatar diaspora journal Emel (No. 14-15) in Pazarjik, Romania, and reprinted several times subsequently.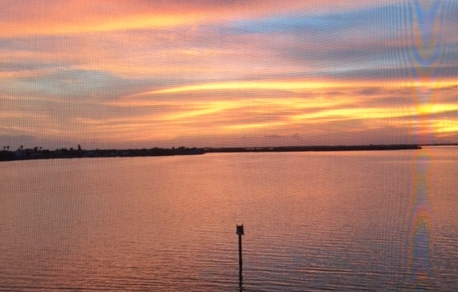 Clouds at Sunset
CLOUDS, CLOUDS!
By Bekir Sıtkı Çobanzade
Clouds, clouds!
Traveling clouds!
Çongar* and China-reaching clouds!
Take me along and let my heart be refreshed,
And my tears splash around my homeland.
Clouds, clouds!
The vetch-full clouds!
Red, green, yellow,
And belt-full clouds!
Let's travel to far away places,
Let's go to Salgır,** and see the linen bleaching beauty!
Clouds, clouds!
I wish to die,
Then ascend for laughter in the sky.
Let's travel to the shores of oceans,
To have a closer look of face of Venus!
Clouds, clouds!
In reedy lakes,
With fluttering stars!
In endless deserts
Take me along when you pour with thunder,
When you reach the oceans through brushing mountains!
Clouds, clouds!
Where do you come from?
What news do you have
From my hometown, from my mom?
Tell me, so we could cry silently,
Then set off, and wither away, together!
Clouds, clouds!
Travel to highlands,
And if you meet my darling Esma***
Give her my greetings!
And wash away mom's tearful eyes,
Kiss her hands to ease her sorrows!
---
*A city in northern Crimea
** The longest river in Crimea
*** A popular female name
Photo credit: M. B. Altan
---
Original, in Crimean Tatar:
BULUTLAR, BULUTLAR!
Bulutlar, bulutlar!
Gezici bulutlar!
Çongar'ga, Kitay'ga,
Yetici bulutlar!
Alınız meni de gönlüm açılsın,
Közümden yaşlarım yurtına saçılsın!
Bulutlar, bulutlar!
Burçak'lı bulutlar!
Al, yeşil, sarı,
Kuşaklı bulutlar!
Alınız, keteyik bek uzak yerlerge,
"Salgır" da ketenin agartkan dülberge!
Bulutlar, bulutlar!
Ölmek isteymen!
Ölgenson köklerde
Külmek isteymen!
Alınız, ketiyik deryalar çetine,
Karayık yakından Çolpan'ın betine!
Bulutlar, bulutlar!
Kamışlık göllerde,
Yıldızlar titregen
O uçsuz çöllerde.
Menide alınız gürüldep cavganda,
Tavlarsa sıypanıp deryaya avganda!
Bulutlar, bulutlar!
Kayerden kelesiz?
Köyümden, anamdan
Ne kaber bilesiz?
Aytınız, barabar tuydurmay cılayık!
Yollarga tuşeyik, sararıp solayık!
Bulutlar, bulutlar!
Yaylaga ketiniz!
Esmamı körseniz
Selamlar etiniz!
Çalkanız anamnın yaşlı közlerin!
Kolların opunuz, unutsun kederin!
---
Posted to ICC site: 29 January 2017
---