A Crimean Tatar politician, leader and writer, Cafer Seydahmet Kirimer (Kırımer) was born in the village of Kızıltaş near Yalta in 1889. He received his early education in Crimea and graduated from high school in Istanbul. In 1908, he and several other fellow students, including Numan Çelebi Cihan, founded the Crimean Student Association. The following year, he and his nationalist friends established a political organization, Fatherland Society. The aim of this secret Society was to free Crimean Tatars from the Tsarist oppression by working against the authoritarian regime and embracing Russian revolution. His first essay, "The Oppressed Tatar Nation in the Twentieth Century," appeared in 1911 under a pen name but was subversive enough for the Russian authorities to pressure the Ottoman government to arrest him. Cafer Seydahmet fled to Europe and settled in Paris, where he enrolled in the Sorbonne to study law, journalism and social science.
Cafer Seydahmet, 1932
At the outbreak of World War I, Cafer Seydahmet returned to Crimea, dreaming of the collapse of the Tsarist regime that would give rise to a democratic state where national rights of ethnic groups would be recognized. He and his fellow nationalist friends continued to organize secret cells at the local level, but he was drafted into the Russian army and sent to Bessarabia. The abdication of Tsar Nicholas II in February 1917 gave rise to a flurry of political activity in Crimea, and Cafer Seydahmet was in the midst of it. He was elected chair of the Crimean Muslims Central Executive Committee in April, headed the Crimean Tatar delegation to the All-Russian Moslem Congress in Moscow in May, and traveled to Kiev to establish contact with Ukrainian nationalists and Mykhailo Hrushevsky, Chairman of the Central Rada in July. An elected body of Crimean Tatars, the Kurultay, held its historic meeting in Bahçesaray on 9 December 1917, and Cafer Seydahmet was elected minister of war and foreign minister of the newly declared Crimean Republic. He was instrumental in drafting the election procedures and the declaration of the new republic. He also succeeded in bringing to Crimea the Tatar cavalry regimen at Kherson, and the Crimean Tatars now had a small military force.
The independent republic of Crimean Tatars was short lived, however. Late in January 1918, the Tatar cavalry clashed with Bolsheviks forces outside of Simferopol, and the Tatars who were outnumbered lost the military conflict. Cafer Seydahmet managed to escape to Kiev to seek assistance but his close friend Numan Çelebi Cihan, President of the Crimean Republic, was arrested and executed by the Bolsheviks in February 1918. After the German occupation of Crimea, Cafer Seydahmet returned to Crimea in May and participated in the administration of Süleyman Sulkiewicz, supported by the German military command. He was appointed foreign minister, and in that capacity he traveled to Berlin to have the blockade lifted that had been imposed by the Ukrainian leader Pavlo Skoropadsky. He was abroad when the German forces began to withdraw from Crimea in November 1918 and the Sulkiewicz government collapsed. Cafer Seydahmet went into exile.
He first lived in Istanbul, where he supported the Turkish nationalist movement, headed by Mustafa Kemal. His stay there was brief, as he was arrested and deported by the Ottoman authorities. In 1920, he settled in Lausanne, Switzerland, where he continued to defend Crimean Tatar interests and lobby for Tatar autonomy. In October 1920, he went to Warsaw to meet with Marshal Josef Pilsudski (1867-1935), the Polish leader who was instrumental in founding the Promethean movement. Pilsudski, who had been earlier involved in underground political activities in Russia, had many allies among leaders of oppressed nations aspiring for self-determination after the collapse of the Tsarist regime. Backed by the Polish government, the Promethean Movement was active from 1926 to 1939, and Cafer Seydahmet actively supported the goals of this Movement.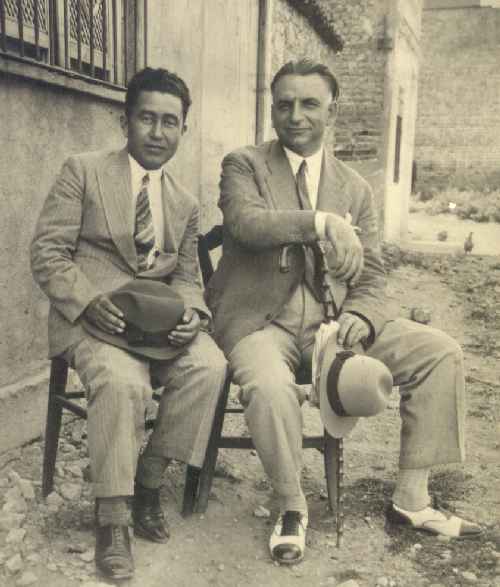 A.Z. Soysal and C.S. Kirimer (right)
In April 1922, at the height of the famine that raged in the Soviet Union (known as the Famine of 1921-1922), Seydahmet travelled to Turkey to seek aid for the starving victims in Crimea. His arrival in Istanbul was covered in the local newspapers and he gave interviews to the press. Istanbul at that time was under Allied occupation, and the nationalist government of Mustafa Kemal was still waging war with the occupying Greek forces in western Anatolia. He also traveled to Ankara to meet with officials of the nationalist government who had good relations with Soviet Russia and through these contacts he tried to gain political concessions for the Crimean Tatars. At the same time, an official delegation from Crimea was in Ankara, also seeking famine aid. In response to these campaign efforts, Turkey managed to send 1,000 sacks of flour to Crimea through the efforts of the Turkish Red Crescent, despite the dire economic conditions of the country.
Less than a decade later, people of Crimea began suffering from lack of food once again. The Soviet policies of collectivization and the elimination of small farmers (kulaks) beginning in 1930 had drastic effects on Crimea as well as the agricultural regions of the country. Excessive requisitioning of grain caused severe shortages of food, resulting in the death of millions of people in Ukraine, Crimea, the Caucasus, and the lower Volga. Cafer Seydahmet protested strongly the governmental policies that led to the Great Famine of 1932-1933, pointing out the cruel and irrational aspects of Soviet decision to sell grain in world markets at lower prices, the grain confiscated from their own citizens who were forced to starve. (See: "Famine in Crimea".)
Cafer Seydahmet was a popular and effective lecturer. He continued to write and speak against the treatment of Crimean Tatars and other captive nations within the Soviet Union. At a meeting of the Promethean activists in Warsaw in January 1930, he gave a lecture on the history of Crimea and maintained that the imperialist policies of the Tsarist regime had not changed. The so-called dictatorship of the working class continued to oppress and even exterminate the Crimean Tatar people. In 1935, a group of Seydahmet's supporters organized a meeting in Dobruja, Romania, to celebrate the 25th anniversary of his involvement in political life and his courageous actions to defend his people. An article in Prométhée (Paris), a monthly publication devoted to the nationalist struggles of the people of Ukraine, the Caucasus and Turkistan, praised Seydahmet for his persistent efforts to promote the interests of not only the Crimean Tatars but all the oppressed people of the Soviet Union. He had been actively involved in the Promethean movement.
Cafer Seydahmet died in Istanbul on 3 April 1960. During his lifetime, he published numerous books and articles relating to Crimean Tatars, the Russian Revolution and Bolshevism, and Gaspirali Ismail Bey, who had greatly influenced Seydahmet's thoughts. With the exception of his often quoted book on Crimea, which appeared in French and later in Polish, he wrote in Turkish. His early works appeared under the name "Seidamet" or "Seydahmet" as he did not adopt the last name "Kirimer" until the mid-1930s. His memoirs, covering the first thirty years of his life, an anthology of his stories about Crimea, and the various lectures he delivered were published posthumously. One of Cafer Seydahmet's shorter articles, "Famine in Crimea," has been translated into English by this author, and it is included here as an example of his writings.
Inci Bowman
12 March 2005
References
"Djafar Bey Seydamet," Prométhée (Paris), vol. 1, no. 107 (1935): 24-25. [In French.]
Alan Fisher, The Crimean Tatars, Stanford: Hoover Institution Press, 1978, pp. 110-116; 122-25.
Cafer Seydahmet Kirimer, "Maresal Pilsudski ile Mulakatlarim ve Hatiralarim" [My Interview and Memories of Marshal Pilsudski], Dergi (Munich) 4 (13), 1958): 75-83. [In Turkish.]
Hakan Kirimli, "The Famine of 1921-22 in the Crimea and the Volga Basin and the Relief from Turkey," Middle Eastern Studies, vol. 39, no.1 (January 2003): 55-56.
Ibrahim Otar, "Cafer Seydahmet Kirimer, 1889-1960," Emel (Istanbul), vol. 1, no. 1 (November 1960): 18-26. [In Turkish.]
---
Publications of Cafer Seydahmet Kirimer
La Crimée; passé-présent, revendications des Tatars de Crimée. [Crimea; past, present and claim of Tatars of Crimea]. Avant-propos de G. -D. Herron. Préf. de E. Pittard. Lausanne: G. Vaney-Burnier, 1921. [Published under name of Djafer Seidamet.]
Krym; przeszlosc, terazniejszosc i dazenia niepodleglo sciowe Tatarow krymskich. Warszawa: Nakl. Instytutu Wschodniego, 1930. [Revised version of La Crimée in Polish; published under the name of Djafer Seidamet.]
Rus Inkilabı [Russian Revolution]. Istanbul: 1930.
Gaspıralı Ismail Bey: Dilde, Fikirde, Işte Birlik [Gaspirali Ismail Bey: Unity in language, thought, action]. Istanbul: 1934. Reissued by Avrasya Bir Vakfi Yayinlari (No.2) and edited by Ramazan Bakkal. Istanbul: Kusak Ofset, 1996. [Published under name of Cafer Seydahmet.]
Rus Tarihinin Inkilaba, Bolşevizme ve Cihan Inkilabina Sürüklenmesi [Revolution, Bolshevism and World War in Russian History]. Istanbul: 1948. A collection of five lectures given at different locations.
Mefkûre ve Türkçülük [Idealism and Turkism]. Edited by Ibrahim Otar. Istanbul: Kutulmus Matbaasi, 1965.
Unutulmaz Göz Yaşları [Unforgettable Tears]. Istanbul: 1975.
Nurlu Kabirler [Sacred Graves]. Istanbul: Emel Türk Kültürünü Araştirma ve Tanıtma Vakfı, 1992. An anthology of eleven stories relating to Crimean Tatar history and culture that were published in the journal Emel in 1937 and 1938. They were also reprinted posthumously in Emel between November 1960 and July-August 1963.
Bazı Hatıralar [Some Memories]. Istanbul: Emel Türk Kültürünü Araştirma ve Tanıtma Vakfı, 1993. Memoirs of Kirimer, covering early childhood and education through the year 1920. It appeared in installments in Emel between January 1961 and January-February 1967.
Cafer Seydahmet Kirimer'in Günlügü, 1954-1960. Edited by Ismail Otar and Ömer Özcan. Ankara: Uyum Ajans, 2003. Diary of Kirimer, covering the years 1954-1960.
(A list of Cafer Seydahmet Kirimer's articles and news items contributed to various journals and newspapers is yet to be compiled.)
---
Pencil drawing of Cafer Seydahmet Kirimer, 1932; and Photograph of Abdullah Zihni Soysal and Cafer Seydahmet Kirimer: Courtesy of the Ismail Otar Library, Istanbul.