A well-known Crimean Tatar journalist, educator, and politician, Ayvazov was born in 1878, in Alupka, a coastal town on the Black Sea. He attended the local schools and spent a year in Istanbul furthering his education in 1902-1903. His first articles began appearing in newspapers in 1890, and he worked for a newspaper published in Baku, Azerbaijan, in 1905-1906. Back in Crimea in 1906, he became involved in the Young Tatars movement and co-founded a nationalist newspaper, Vatan Hadimi, with Resid Mediyev in Karasupazar. His views calling for political and educational reform attracted the attention of the Czarist authorities, and he was expelled from Crimea in 1908. He returned to Crimea in 1913 and began working for the well-known newspaper Tercuman, published by Ismail Bey Gasprinsky in Bakchisaray. After the death of Gasprinsky in 1914, Ayvazov became editor-in-chief of Tercuman and continued in this position until the newspaper ceased publication in 1918.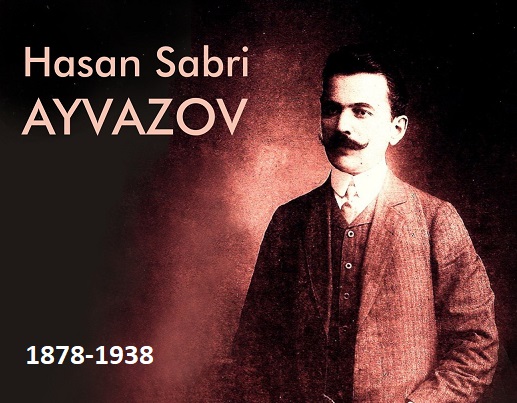 Hasan Sabri Ayvazov
The year 1917 was an exciting year for reform-minded Crimean Tatars, who held meetings throughout the year and succeeded in establishing a democratically elected government in December. Ayvazov was one of the leaders of the Kurultay (National Congress). The Crimean People's Republic was short lived, however. It was dissolved when the Bolsheviks gained control of the Crimean peninsula in January 1918 and executed its President, Numan Celebicihan (1885-1918). In the 1920s, Ayvazov was employed by the Central Executive Committee of the Crimean government as Secretary of the translations section. During this period, he published a Crimean Tatar journal, Koz Aydin, in Latin alphabet, and other works dealing with alphabet reform and Crimean Tatar literary language. His numerous publications relating to Crimean Tatar literature and culture eventually led to his dismissal from the Crimean government in the early 1930s. He was later arrested and executed on 17 April 1938.
Inci Bowman
Posted: 17 April 2018
Source: Zuhal Yuksel, 2003. "Kirim Tatar Hareketi ve Hasan Sabri Ayvazov."
Downloaded: 14 April 2018.