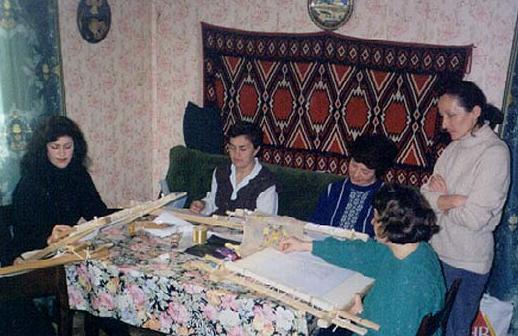 A non-governmental organization, the
Marama
Association was officially founded in September 1997, with the support of the
Institute for Democracy in Eastern Europe
and the Rebirth of Crimea Foundation.
The word Marama is the name of traditional headdress worn by Crimean Tatar women. After the deportation of Crimean Tatars, we have lost most of our culture and art. It is clear that restoring traditional arts and crafts of Crimean Tatars demands enormous effort and large financial resources. During the last 10 years following the return of Crimean Tatars to their motherland, more problems appeared, including unemployment. Considering the urgent need for new jobs, along with the revival and development of national arts and crafts, the Association has adopted the following goals and objectives:
to revive and further develop Crimean national arts and crafts
to provide assistance in the creation of new jobs
to carry out exhibitions and auctions
to assist in the creation of courses in various educational institutions, public organizations and state enterprises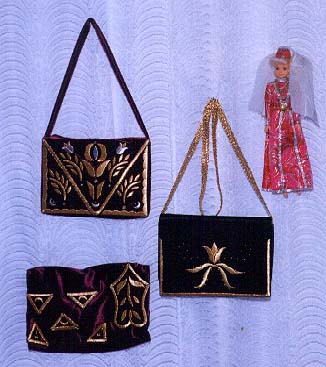 In 1998, 15 women were involved in our project of reviving Crimean Tatar art of gold embroidering. They are presently making souvenirs using the gold embroidering technique at home.
The future plans include organizing a puppet studio, "The legends and tales of Crimean Tatars" in Bakhchisaray, and an embroidery club for children of school age in Crimean Tatar settlements.
Illustrations:
Right: Members of the Marama Association.
Left: Gold-embroidered items made by Marama ladies.
Address:
102, 6th microregion, Bakhchisaray
334410 Crimea, Ukraine
Tel: (+38 06554) 44584
E-mail: rcf@crimea.com
Chairperson: Ayshe Osmanova
See also: Correspondent Lily Hyde's article, Ukraine: Tatar Women Rediscover Roots, about the gold embroidery project.
---